In recent years, there has been a huge shift towards personal expression in the wedding industry. Today's weddings are meant to tell the story of your love. You no longer need to be bound by traditional rules according to which you need to choose a white dress and perfectly matched, conventional wedding rings. Today, there are so many more options to discover.

What will be in fashion this year?
But that doesn't mean that traditional is no longer fashionable. Everything is up to you and down to your tastes. There are many options: from simple designs to less common or extravagant wedding rings. But you should spend a little more time choosing your wedding ring than when you choose other jewellery. You will look at the wedding ring on your hand every day for the rest of your life, so it should correspond to your personality and style and you should be sure that you will like it even in a few decades.
It is no longer true that women's and men's wedding rings must differ only in the size of the band. Ladies' wedding rings tend to be more ornate, set with precious stones and sometimes, they are even in a different colour of gold.
Here's an overview of every style for this year that you shouldn't miss. We have included the latest sensations, trends that have been around for some time, as well as styles that never go out of fashion.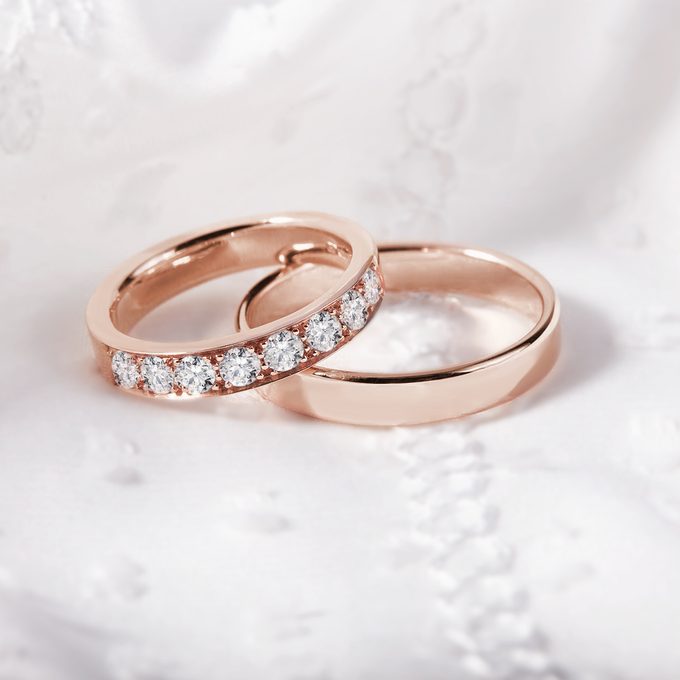 New trends
Minimalist rings
Traditional wedding rings tend to be wider and bigger, but one of the biggest trends nowadays is the narrowing of wedding rings. A thin wedding band looks very subtle and elegant on a woman's hand and it can be either smooth or decorated with stones.
Wedding rings with diamonds, especially eternity wedding rings, are very popular. They are set with diamonds all the way around and are a clear symbol of infinite love. This style has its advantages. You can perfectly match it on your hand with your engagement ring which also has a thinner band as well as with your other favourite rings that you don't want to stop wearing. Women with shorter or bigger fingers will appreciate this style of ring because it optically lengthens and slims the fingers.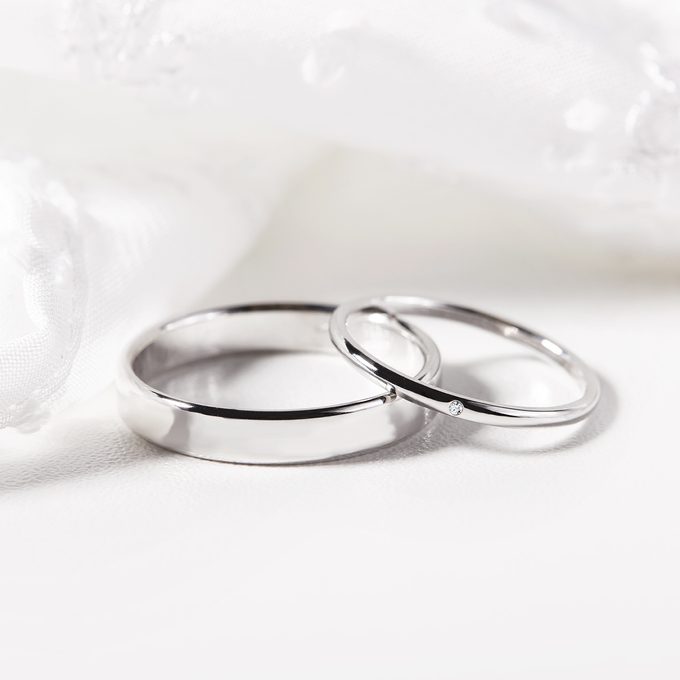 Gemstone rings
If you love colourful gems, we have good news for you. They are also becoming popular in wedding rings and they look beautiful! Since a wedding ring is supposed to be worn every day, the most suitable gemstones are those with a high degree of hardness, such as sapphires, rubies ​​or fancy colour diamonds. But you could also choose the stone based on other criteria, such as your birth month or the month of the wedding.
With KLENOTA jewellery, you can choose a different stone instead of a clear diamond and also have the ring made to order. This way you will be sure that your ring won't be worn by every woman.
Large diamonds
Maybe you expect your wedding ring to become a distinctive jewellery piece that won't just be an affirmation of your love. And why shouldn't it be the luxury fashion accessory you've always dreamed of? Rings which feature several larger diamonds fit this bill. They are versatile so you can wear them every day. But they will make you shine on more important occasions too, due mainly to their dazzling sparkle which becomes evident in artificial light.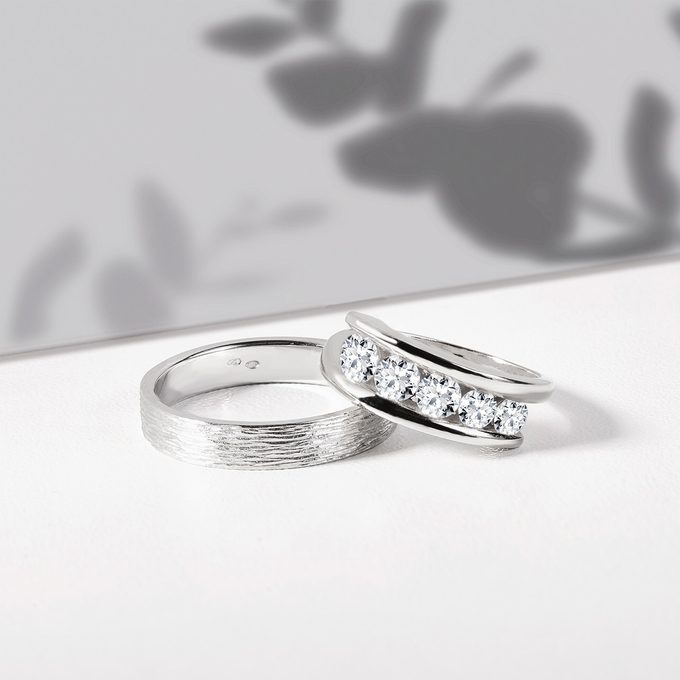 Constant hits
Rose gold
This colour of gold has become a bold fixture in jewellery making and everything points to the fact that its popularity is definitely not just a fashion wave that will soon fade away. Although white gold wedding rings still reign supreme, rose gold is practically tailor made for the occasion. It is romantic, delicate and suits all women and men so you could combine a rose gold wedding ring together with a white or yellow gold engagement ring.
Curves
If you already know that you would like to wear your wedding and engagement ring on the same finger, you can also customise the design to suit this. A wedding band which is slightly curved in one place so that it makes room for a larger stone on the engagement ring is one very sophisticated solution. You will also appreciate this solution if you are the proud owner of a halo ring. The two rings then appear to belong together and form a coordinated set.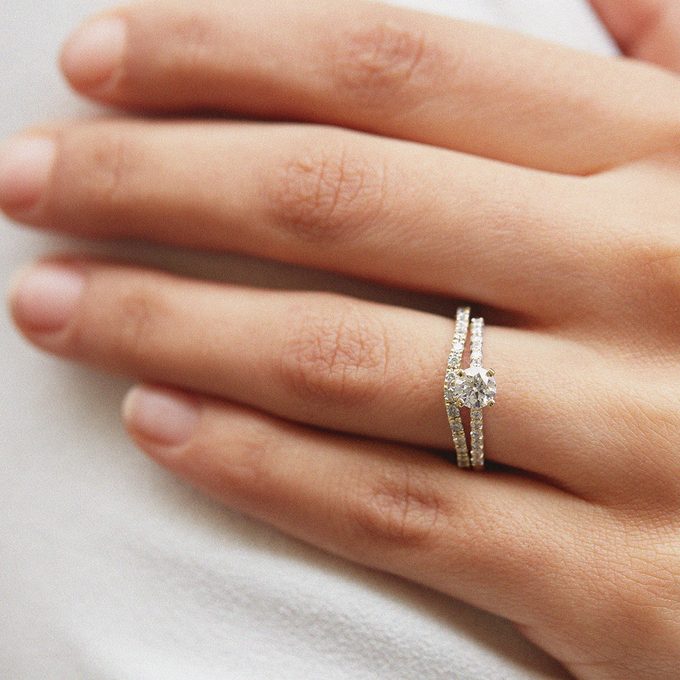 Immortal classics
Plain rings
Smooth and uncomplicated gold wedding rings are a genuine classic. They may be narrower or wider, but in all versions, they are the most comfortable option for the wearer. Their indisputable advantage is the fact that you won't have to take them off for sport or other activity where a more complicated ring could get in the way.
If you choose a smooth and shiny gold finish for your ring, over time, regular wear will show up on the ring as a delicate patina that will have its own charm and will remind you of how long you've been together. Of course, you can also have the rings polished to have them looking like new again.
Plain rings are a great choice for those of you who don't want to take risks and are looking for a truly versatile solution.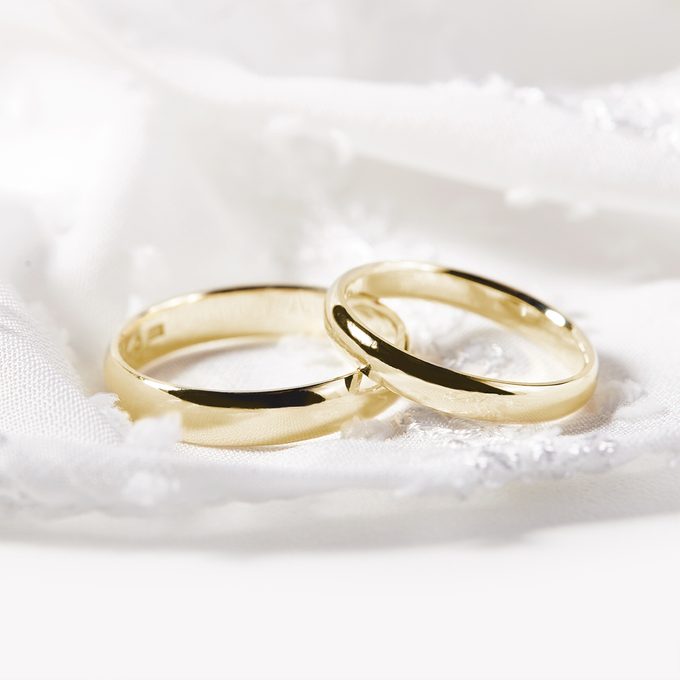 Matching rings
Maybe you like the idea of ​​having the same ring as your partner, but you want to make them special with a design which shows that you belong together. A possible way to do this is to modify the surface of the rings in an original way, perhaps by having them polished to resemble the bark of a tree.
You can personally select and try on KLENOTA wedding rings at our jewellery studio, in the heart of Prague. We handcraft our jewellery using traditional methods to ensure that our rings will serve you for a long time. Professional service and help with making your selection are a matter of course.