At the KLENOTA jewellery studio, we create earrings that are a joy to wear every day. Properly selected earrings can nicely highlight the features of the face, complete an overall look and add to a woman's femininity. In our collection you can choose from classic diamond studs, dangle earrings, hoops or earrings with precious stones.
One of the important factors influencing the choice of earrings can be their size and type of fastening. Some people prefer safety and durability, for others the most important thing is the look of the earrings. Each type of earring and closure has its own features. So how to choose earrings correctly?
Here is our clear and straight forward guide to earrings, divided into:
---
Types of earring closures
Push back
A push back fastening is the most common type of earring closure. It involves a fastening whereby a smooth post is threaded through the ear and then a push backing is slid onto it. This type of closure is suitable for women who like to change earrings often or who do not like to sleep in them. Push back closures are ideal for stud earrings or earrings with pearls.

Recommendation: If you have pearl studs with a push back closure, we don't recommend taking the earrings off by pulling at the pearl, as it could make the pearl become loose over time. It's better to hold the earring close to the ear where you can see the plate to which the pearl is fitted.
Screw back
A screw back is a common and very safe type of fastening. The difference between the push back and the screw is that the push back simply locks into a groove, while with a screw back, the back is a screw which screws into place along the post. So that the earrings hold securely in place, they need to be screwed in all the way to the end. However if you take off your earrings every day, it would be better to choose those with a push back fastening.

The lever back
This is a very popular closure. After inserting the earring into the piercing, a lever closes the earrings over a hook, thus stopping the jewellery from possibly getting lost. This type of closure is suitable for heavier and larger earrings that might otherwise overbalance forward. Earrings with a lever back closure simply hang in the ear and thus look very elegant and noble.

Front closure
A front or children's fastening is used especially in earrings for little girls from infants up to school age. However as it comes in different sizes, it can also be used in women's earrings, for smaller and more delicate earlobes. The fastening closes from the front by threading the end of the hook into the eyelet. If you are choosing earrings for small children, we recommend this type of closure.

Hoop fastening
With this type of closure, the tapered side of the earring is put through the piercing and inserted into the opposite tube. With this closure, the earrings have to be closed carefully in order not to cause damage by overstretching them. Especially with smaller earrings, handling them can be more difficult so we don't recommend this style for women who often change their earrings.

Latch back
The latch back (also known as the Russian, French or Greek lever) resembles a leverb ack in its mechanism. However the entire part of the earring's closure is hidden at the back of the ear. The latch back is thus an ideal choice for earrings where a visible fastening would disturb the overall look of the earrings.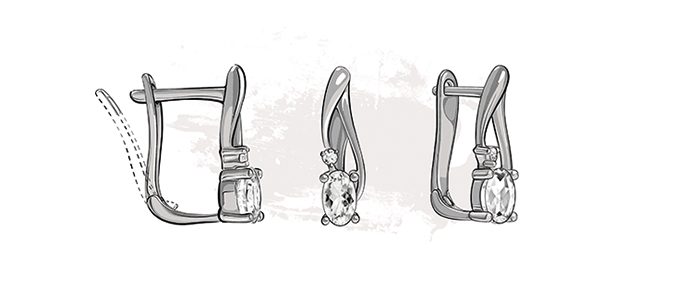 Recommendation: We don't recommend using too much force to open this type of earring. A properly set fastening should be very easy to open but won't open on its own. You can check this for yourself by opening and closing the earring a few times with your hands before putting it in your ear. And with more practise, you'll be able to safely take it off even without looking.
Creole
This type of closure is designed for hoop earrings and it comes in a number of styles. It can be a flexible retractable clasp or a type of closure that works on a similar principle to a lever back, which is used for heavier earrings with gemstones. Its biggest advantage is that it does not impact on the design of the earrings since the fastening follows the shape of the earring so it looks inconspicuous from all sides.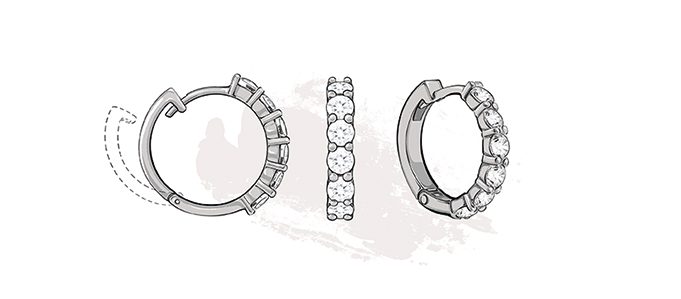 Lever back closure
This is a popular, sturdy type of fastening that is quite secure due to the fact that it has a firm lever with a notch that hooks into an eyelet in the hanging part of the earring. The advantage of this type of closure is that the entire clasp is in the back of the earring and so it does not interfere with the aesthetic appearance of the jewellery. This type of clasp is most commonly used with elegant earrings.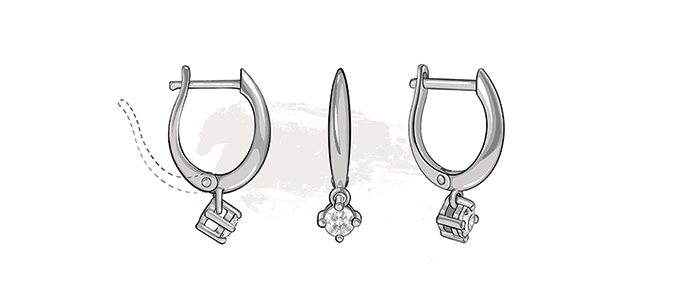 ---
Earrings for children
Every parent will no doubt agree that they want only the best for their child. This also applies to picking the jewellery which will accompany their little girl throughout the first years of her life. Earrings are a type of jewellery which have their own characteristics and they should be designed first and foremost with the child's safety and age in mind.
The metal used
Children are often allergic to certain materials and this is one of the reasons why we recommend opting for 14k gold when choosing earrings since the risk of allergic reactions with its use is absolutely minimal. At the KLENOTA jewellery studio, we use only certified and registered alloys approved by the government hallmarking office. All of our jewellery is stamped with a government hallmark, a number indicating the metal's purity and our maker's mark in the form of the letters KLE in an oval. We guarantee the authenticity of all of our jewellery and our customers are automatically sent a Certificate of Authenticity with every piece of jewellery which they purchase from KLENOTA. 
Gold as a metal is harder than silver, so you don't have to worry about accidentally bending the earrings out of shape which can occur for instance when children play. Another advantage of gold earrings is their easier maintenance because gold is more chemically resistant than silver, which turns black over time. As a result, there is no need to remove gold earrings to clean them as often.
Yellow, white and rose gold have similar properties and will suit a baby or a young lady, so it's only up to you which colour you choose. With white gold, the jewellery is also plated with rhodium to make it silvery white. Rhodium is also hypoallergenic (white gold can contain nickel) and it protects the surface of the jewellery from abrasions. Give your child a beautiful piece of gold jewellery that will last them a lifetime and will be passed down to future generations. The jewellery will hold both value and precious memories for years to come.
Closures
Your little girl will spend her entire time in her earrings and she can hardly be expected to guard them like a treasure. For little girls from 3 months to about 8 years of age, earrings with a front closure where the moving part is threaded through the piercing in the ear and attaches to the eyelet at the front are an ideal choice. It is almost impossible for a small child to open this themselves and the risk of the earring getting caught on something is also minimal. This type of fastening however requires careful handling to avoid bending the hook out of shape. With silver jewellery we must be much more careful because it is softer than gold and it can easily bend. For this reason too, we recommend choosing gold earrings which are more versatile due to the hardness of the metal. For older girls, you could choose stud earrings with a push or screw back.
Design
In the children's earring collection of the KLENOTA jewellery studio you will find a wide selection of cute, minimalist, but also classic and timeless earrings made out of 14k gold. Choose from themes inspired by nature or let yourself get carried away by the playfulness of the animal kingdom.
Especially delicate are the designs featuring hearts and tear drops and these are suitable for both very young and teenage girls. Gold jewellery with diamonds is especially lovely and will retain its beauty, making it a memento for life for the little girl.
Tarnishing on gold earrings
In some cases, some children's earrings made of 14k gold may begin to turn black. This is caused by a reaction of the other metals (silver, copper, zinc) in the alloy mixture. Interestingly, this often happens when some changes occur in the body, such as illness or medication. The chemistry of the body changes and so does the composition of its sweat which then reacts with the elements in the alloy. Earrings can also turn black where there is an allergic reaction, naturally aggressive sweat, a reaction to cosmetics or even to mineralised water. It is always necessary to first work out why the gold has turned black and then to find the optimal solution for this. The blackening is not permanent and tarnished earrings can easily be cleaned. The easiest and guaranteed way to get rid of unwanted tarnish on children's earrings is to entrust them for polishing into the hands of an expert. As part of our lifetime service, we will do a mechanical clean as well as an ultrasonic clean free of charge on all jewellery purchased from us.