At the KLENOTA studio we understand that choosing wedding rings is an important event for a couple and we do everything we can to ensure your complete satisfaction. We can cater to your wishes and help advise those of you that are still undecided. With every wedding ring purchased from Klenota, you will also receive a Certificate of Authenticity, as well as free lifetime jewellery care which includes jewellery inspection and cleaning. If you have also purchased a KLENOTA engagement ring, you will get an extra 7% off any pair of our wedding rings, with the exception of already discounted wedding ring sets.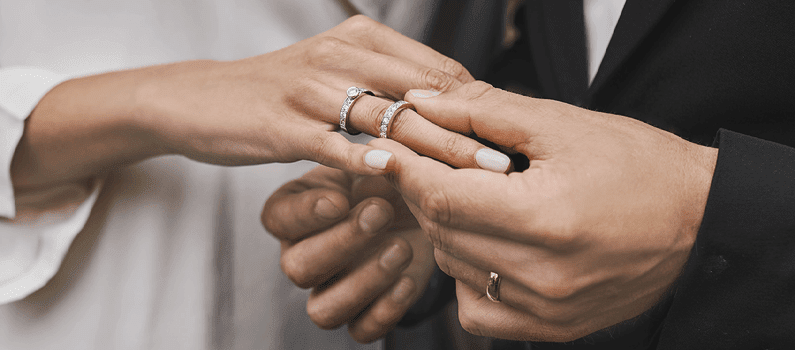 ---
Choosing and buying wedding rings online
Choosing a ring size without first trying on the ring can be difficult and risky, which is why we offer the option of sending you a free set of ring sizers. This way, you can be sure that your jewellery will fit you perfectly when it arrives. To give you the best possible idea of the actual look and shape of the rings you have chosen, there are several product photos with each ring, including a photo directly on the hand.
How does the process look step by step?
The order is created online,

order processing and consultation,

payment of a 50% deposit of the order and rings are then authorised for production,

the rings are finished and shipped,

any additional engraving and/or size adjustment.
Total production time: approximately 3 weeks (without engraving).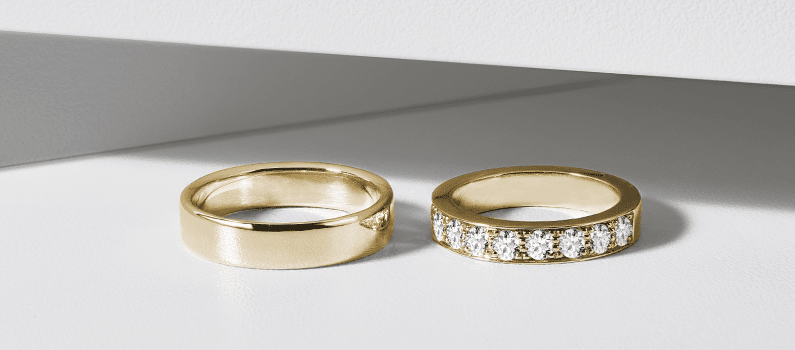 1. Creating and processing the order
You can choose lady's and man's ring individually or in matching wedding ring sets. Please note that even if the rings you have ordered are in stock, we always make them new to order with a lead time of approximately 3 weeks (without engraving).
Please indicate in the note section of the order the ring sizes you would like and whether you would also like to get the rings engraved. If you would like the rings to be engraved, please also write the desired text and font in the notes. Wedding rings with an engraving take approximately 4 weeks to make from the date of order. Please note that we consider engraved rings to be modified jewellery which cannot be returned or exchanged. They can however be resized for a fee. If you decide when you make your order online that you would like to try on the rings for size in person at our studio, please advise us of this in the notes or by email before the rings are authorised for production.
We will process your order, check whether or not an engraving is possible and provide you with advice regarding your requirements. We will then ask you to pay a deposit of 50% of the total price of the rings. Once paid, we will authorise the rings for production and inform you of the expected delivery date.
2. Subsequent engraving and possible modifications
If you are unsure of the size, or you are in a hurry to have the rings made, we recommend that you choose the option of getting the rings made without an engraving. To then obtain a free supplementary engraving after you receive the rings, you must send them to us as soon as possible to ensure they are worn as little as possible, but in any event, no later than 60 days after purchase. You also have the option to have the size of an unworn ring adjusted free of charge within this timeframe. Once the size has been altered, we can then also engrave the ring.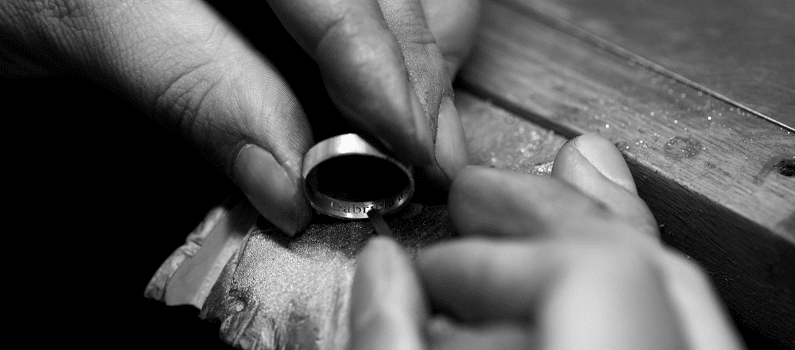 ---
The choice of surface finish
No wedding ring would be complete without a finish. It adds beauty and personality. At the KLENOTA Jewellery Studio, we produce men's wedding rings in several types of finishes.
Shiny

- A glossy finish is a classic among wedding rings. The smooth metal looks luxurious, but it can acquire a patina over time. The ring should therefore be polished again regularly.

Satin

- A modern variation of the classic gold ring. Fine sandblasting gives the surface an elegant matt effect.

Diamond matt

 

- The Diamond matt finish is created by coarse sandblasting, where the texture of the ring takes on a subtly shimmering appearance.

Carved

- The irregular texture on the ring is formed by delicate hand carving which in its final look slightly evokes the patterns found in nature. This hand carved surface is an original design from the KLENOTA workshop.
You can change the surface finish on most of our ring designs. If you would like to make such a change, please contact us or specify the desired finish in the note with your order. 
It's generally the case that over time, matt rings will become polished in appearance while shiny rings will become a little matt. To keep your ring looking like new after years, it should be given a complete surface restoration once in a while. This includes cleaning, re-finishing, polishing and, for white gold rings, re-plating them with rhodium.