When buying a new necklace, it is not just important to choose the design, type of metal, pendant or precious stone or even pearls that you like. From a wearability and practical point of view, you should also consider the length of the chain so that it corresponds to your needs and ideas about its intended purpose. This guide will give you advice on what factors play a role and what to take into account when making a decision.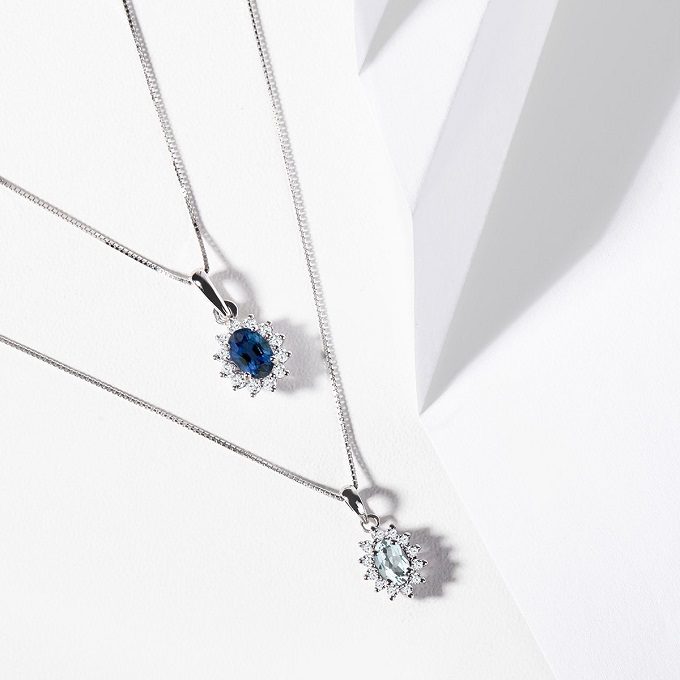 An overview of the popular lengths of chains
The most common lengths of chains are 42 or 45 cm. On women of an average height, these lengths sit nicely on the neckline. Ladies who like slightly longer necklaces which end at the chest should opt for lengths of about 60 cm. The length of a typical children's chains is 38 cm. 
Chokers, ie chains which tightly encircle the neck, are currently very popular and these are usually 35 cm in length. Sautoir necklaces have also come back into fashion. They are up to 80 cm or more in length and they come both in the form of chains decorated with a distinctive pendant or as long strands of pearls. Quite often, they are used for layering with other jewellery that is worn at the neck.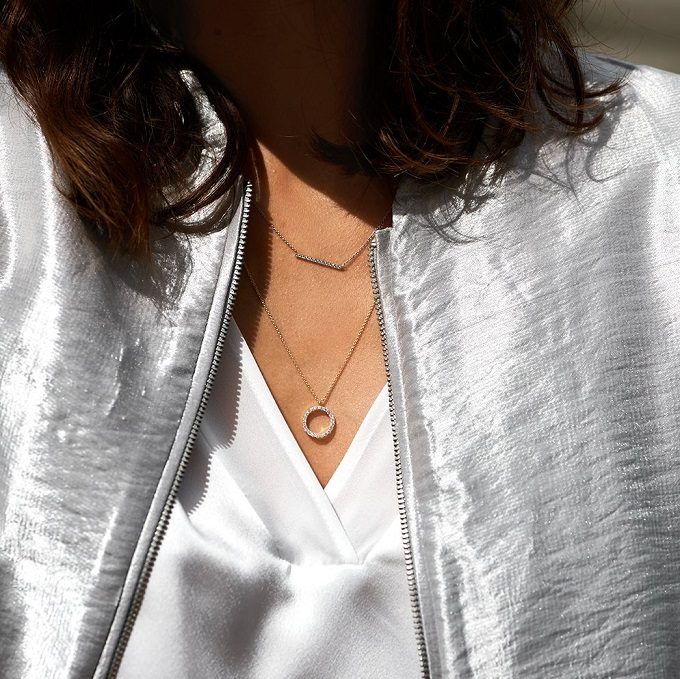 Where to start? Focus on your neck
To begin with, carefully look at your neck, measure it and based on that, think about what length of necklace will highlight its good features or which will conceal any possible flaws.
Chokers should be about 5 cm longer than the circumference of the neck, and they will also nicely accentuate it if they are long and slim. Longer necklaces (50 or 60 cm long as well as sautoir necklaces) will extend the look of a shorter or wider neck. They nicely emphasise the collar bones and distract attention away from possible wrinkles or imperfections on the neck. With a wider neck, it is also helpful to focus on smaller, minimalist jewellery (such as subtle white gold chains) rather than any massive pieces.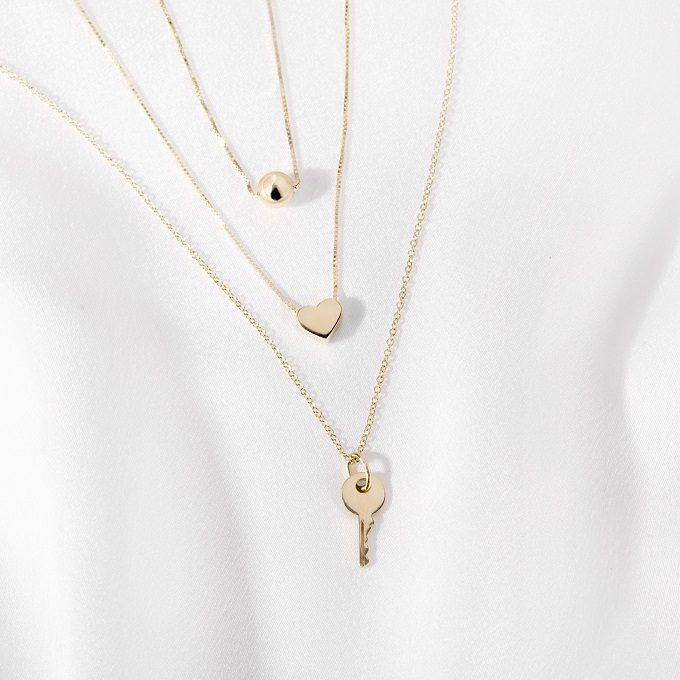 Consider the shape of your face and your body's proportions
Now focus on your face as well as your figure. People with an oval face can usually afford to wear any length, while those with an elongated face are more suited to shorter chains. On the other hand, short necklaces or chokers are not the best choice for those with a round face, but they are popular among people with heart shaped features.
Next, think of where the chain will end given your height, as this will automatically draw attention to that area. If you are around 160 cm tall, stick to lengths of up to 60 cm. Taller people may opt for shorter as well as longer necklaces. Those with a fuller figure will most suit chains between 45 and 55 cm - any longer might not hang well on the neck and the end result visually would probably not meet with your expectations.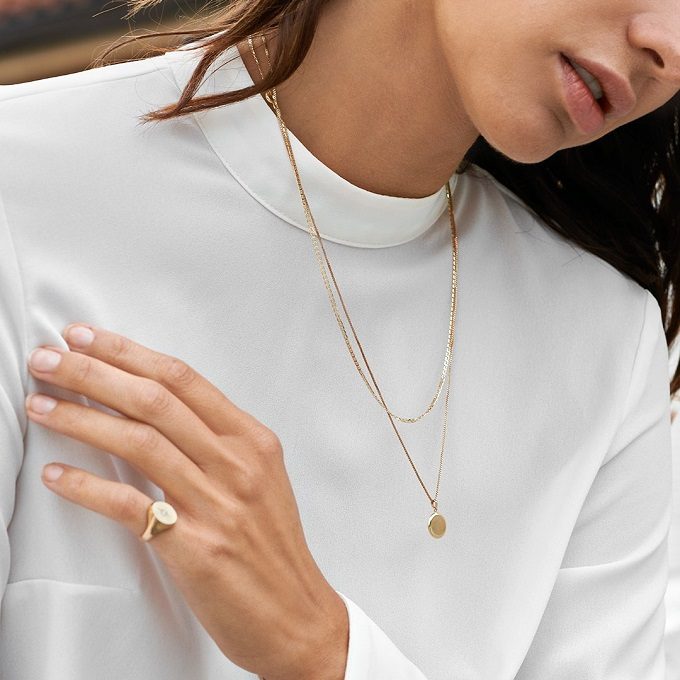 Think about how and when you want to wear the necklace
The most versatile length that fits most clothing and suits almost everyone is 42 or 45 cm.
For shorter necklaces, the neck and collarbones at least should be exposed. These necklaces stand out the best with V-necks, drop sleeves or strapless tops, but they wouldn't be the best choice when combined with a turtleneck.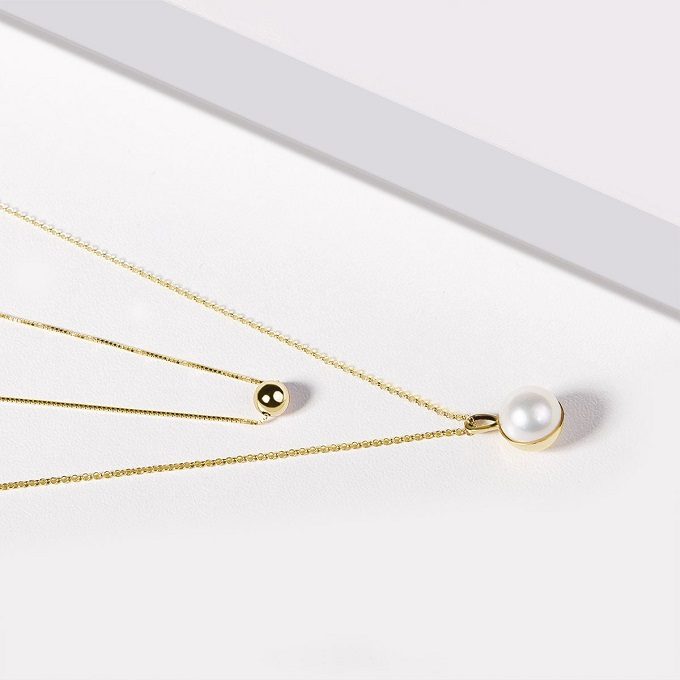 Necklaces between 50 and 60 cm in length better complement a more formal business outfit, but when the necklace has been carefully chosen, it can also be worn with a simple, casual top.
Long sautoir necklaces or pearl strands longer than 80 cm go especially well with turtlenecks and evening wear for special occasions. But they come in many styles, so it mostly depends on what type you choose. For example, a long chain with a pendant that has a natural motif on it will also suit a casual summer dress with a very deep neckline.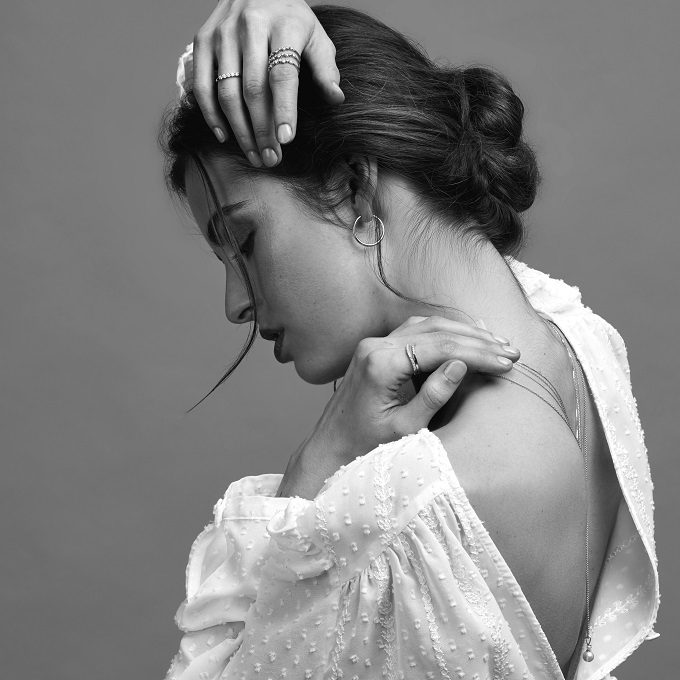 Simple gold chains are a safe bet in all lengths. You can add interesting pendants to these and alternate them to your liking or use them as a base for layering.
The key to choosing the right necklace and length is to know yourself well, focus on the features which you want to highlight on yourself, and carefully consider what type of jewellery you prefer. This way, the necklace will always serve you well, will accentuate your natural beauty and make you feel irresistible.