Does it ever happen to you that you open your jewellery box and peer in, but just can't decide which necklace to wear that day? Maybe you try on two or three in hopes to get the perfect look, but nothing seems to be working. Well, how about layering them? You're sure to get a unique style that no one has done before, and there are plenty of types of necklaces, so the possibilities are endless! But, necklaces have to be layered thoughtfully. That's where we come in: we have put together a guidebook that will introduce you to various types of necklaces and the best ways to layer them.
Start simple
A gentle, simple gold chain around your neck is a must. A gold chain works as a stand-alone accessory and creates the perfect base piece to build a fashion-forward foundation on. Plus, gold is the best choice for a necklace that you plan to wear often, thanks to its second-to-none durability. Gold comes in several tones, so you can pick the colour that best suits you and your outfit that day without sacrificing that trendy style that you're searching for.
Diamonds for everyday wear as well as special occasions
Diamond necklaces have a timeless look that will go with any outfit at any time, and the more fashion-forward, minimalist styles are perfect choices for layering. Choose a single pendant with a small diamond to add that perfect touch of sparkle and amp up the wow factor of the simpler gold chains. Or, go bold with a unique, original piece and make sure that you're the center of attention wherever you go. Diamond necklaces, with their various designs and styles, are the secret weapon of anyone that is going for the layered look, as they can be dressed up or down, and you'll look elegant and effortless no matter what.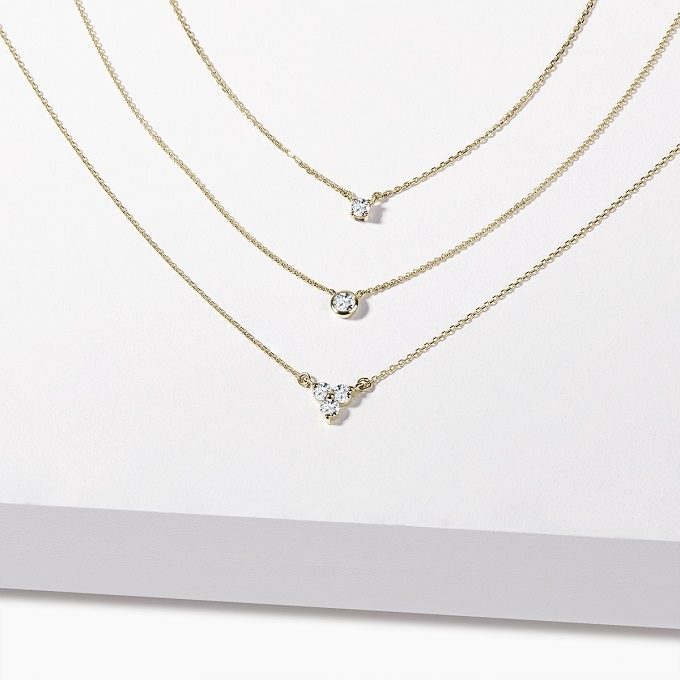 Bring in a gemstone for a pop of colour
Lovers of colour can have their day, too! With gemstone necklaces, you can choose the exact colour, shape and style according to your nature, favourite style and colour type. For example, paler women with blue eyes look great with sapphires or tanzanites. Eternal romantics will surely be amazed by pink tourmalines or morganites. Brunettes with golden skin look irresistibly with emeralds. There are many options. If you want to use a gemstone jewel for layering, rather opt for simplicity in other neck chains.
Timeless pendant shapes
If you're not sure which style pendant will be the perfect addition to your jewellery box, it's a safe bet to go with a popular shape. This way, you'll be able to wear your necklace no matter what the trend of the day is. You can then show off your favourite necklace by pairing it with some complementary, simple gold chains. If you're shopping for a new favourite necklace, take a look at our heart and cross pendants for some inspo!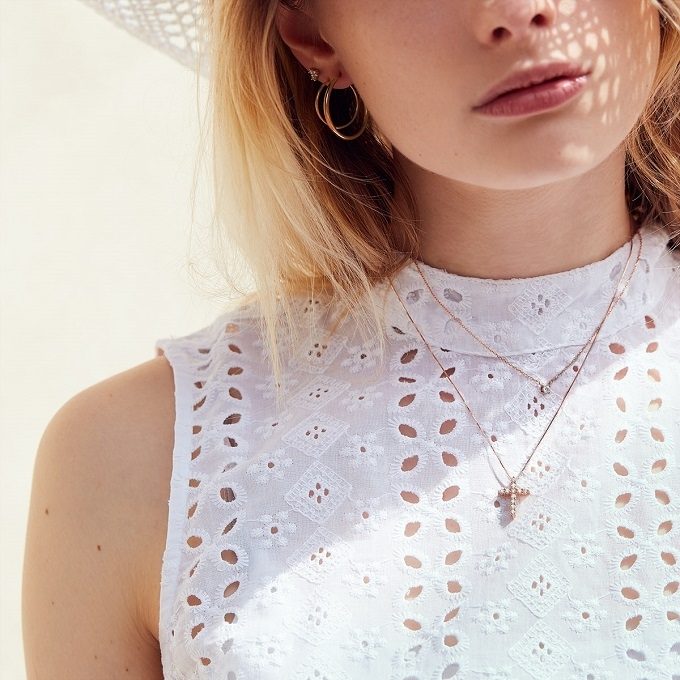 The golden rule of layering
When you first start layering necklaces, start out with a simple rule: put on three necklaces, and you can't go wrong. We also recommend keeping it simple--just putting a toe in the water before you jump in. Start out with two gold chains and a subtle diamond necklace, or three gold chains of varying lengths. But once you get the hang of it, you can make a big splash with bolder pieces and more adventurous combinations. 
Just don't forget that fashion "rules" are not really rules at all. When it comes to necklace layering, we really only have a couple of guidelines: be yourself and wear what you like. After all, it's only your opinion that matters!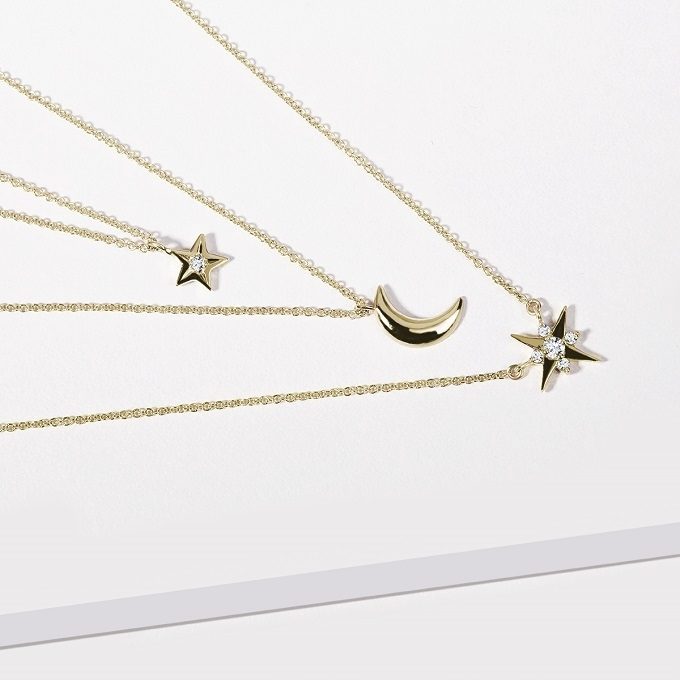 Combine chains of varying lengths
The best way to layer is to pick chains with varying lengths, so they don't bunch up or get tangled but can each stand out on their own. Combine different types of pendants, too! For example, a short gold chain with a pearl pendant that sits just below the notch at the base of your neck and a longer diamond necklace make a stunning, elegant combo.
When you're layering necklaces, we recommend wearing simpler shirts so that your necklaces can take center stage. Simple blouses or sweaters with v-necks are the perfect staging for your layered styles.
Necklaces are the perfect choice to elevate a simple outfit and to highlight your natural beauty. Now, you have some inspiration to go forth and create your own combinations! Just put on your outfit, layer on your favourite combination of necklaces, lift your head high and you're ready to go!