Bracelets have a firm place in every woman's jewellery box. They are a type of jewellery that often carries symbolism, such as friendship, love or protection. At the KLENOTA jewellery studio we make our bracelets from 14k gold, complemented with diamonds or other gemstones. Our bracelets have designs which are thought through, they are comfortable to wear and always impress with their quality of workmanship and interesting details in the design. This article will help you choose the right type of bracelet, whether you are looking to make yourself happy or to buy it as a gift for a loved one. A stylish bracelet is always a suitable gift and it will stand out from the crowd!
Chain bracelets with a diamond
This type of bracelet is an ideal basic piece that a woman practically doesn't need to take off. The diamond ornament in it adds femininity and elegance to the jewellery. You can easily mix and match the bracelet with other jewellery from our collection and create your own set or look which will become your trademark. One great advantage of chain bracelets is their soft, delicate look, which means that they won't interfere even while working at the computer, a fact which many women will certainly appreciate.
Flexi bracelets
These bracelets are a specialty of the KLENOTA jewellery studio. They are designed to be easy to put on and to sit beautifully on the arm. Even though the band on these bracelets looks solid, it can be opened wide and pressed to fit each hand perfectly. You can experiment with how high you wear them on your forearms too. We also recommend these types of bracelets for everyday wear, but they will definitely stand out as an accessory to formal dresses. Simply put, they just can't be overlooked.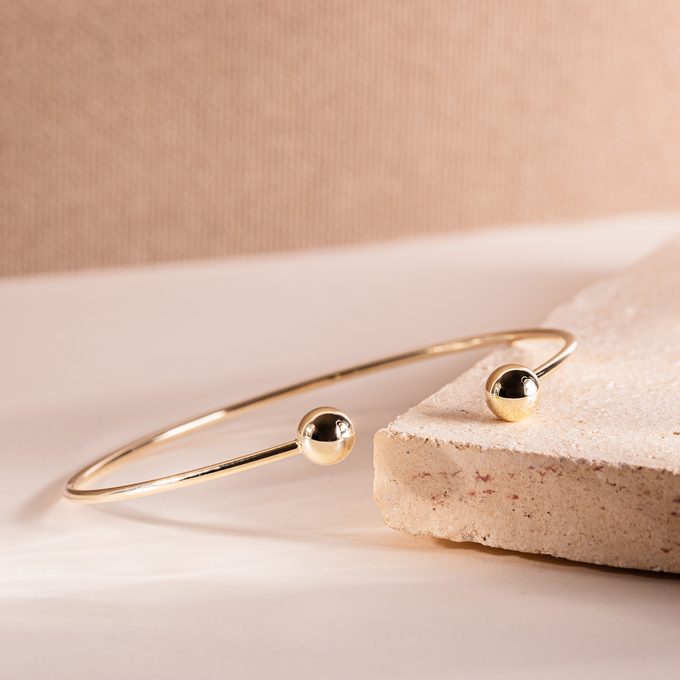 Pearl bracelets
These are a classic but they can be transformed into a contemporary and fresh format in an instant. Pearls no longer have to be just a supplement to a formal wardrobe, every outfit can be embellished with them. For instance they will stylishly complement jeans and a simple T-shirt. For special occasions, pearl bracelets can also be layered to evoke the iconic style of timeless elegance by Coco Chanel or Audrey Hepburn. But be careful when combining them with metal bracelets as these could damage the pearls.
In the KLENOTA jewellery studio collection, you'll find pearl bracelets made of real white, pastel pink as well as mysterious Tahitian pearls.
In addition to the classic type of pearl bracelet with a gold clasp, you can also choose from pearl stretch bracelets, the main advantage of which is their hassle free use. And definitely don't miss one of our newest arrivals - a pearl bracelet complemented by colour beads made of turquoise and coral.
Bracelets with colour gemstones
Colourful precious stones and gold - this is a proven duo that is a guarantee of success in all jewellery, including bracelets. We decorate both chain and flexi bracelets with gemstones. We work with natural stones that will amaze you with their beautiful colour and distinctive lustre, such as yellow citrines, purple amethysts or romantic pink sapphires. Bracelets with gemstones attract attention just by themselves, but you can also boldly embark on layering them and conjure up your own colour combinations.
Beaded bracelets made of gemstones
These are a thoughtful combination of irregularly faceted natural gemstones with components made of 14k gold or pearls. Gemstones in this form excel in their natural beauty and they sparkle beautifully when the hand moves. These types of bracelets perfectly complement simple as well as boho style outfits and they also give off an energetic and optimistic feel to them. We have exclusive bracelets made of real rubies, emeralds, citrines, aquamarines or tanzanites in our selection. A special rainbow design bracelet made from various shades of sapphires is also irresistible. These types of bracelets will combine well with all of those universal gold jewellery pieces.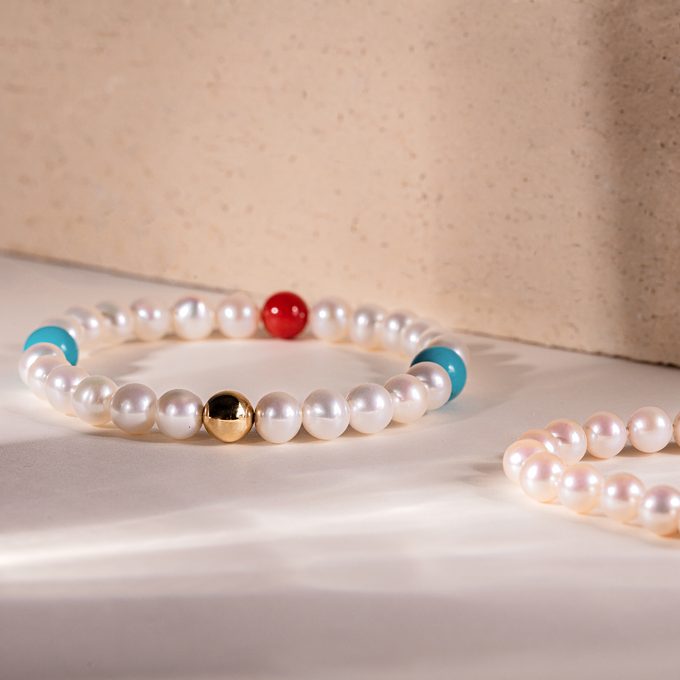 What bracelet length to choose?
We make bracelets in a standard length of 7.1 inches however if you would like the bracelet to fit you perfectly, measure your wrist and state a different size in the notes when you make your order and we will customise the selected jewellery for you. To find out your ideal size simply wrap a tape measure around your wrist and add just under an inch to the measured value.