Playful, free and bohemian - these are just some of the characteristics of our mineral jewellery collection, which we constantly expand with new and unusual types of stones at KLENOTA jewellery studio.
The magic of imperfection
The mineral bracelets and necklaces are hand crafted at our Prague jewellery studio from faceted natural stones which we combine with genuine 14ct gold components. The irregular shape of the stones is reminiscent of their raw form which is also not perfectly symmetrical. The smooth facets on the stones then take care of their excellent sparkle and accentuate their color, same as what we are used to with stones which have been cut and polished.
This category of jewellery also includes pearls with pale blue turquoise and bright red coral stones added to them which serve to highlight the pearls. The combination of a timeless classic with a surprising element of color looks playful yet elegant at the same time.
Is mineral jewellery for you?
Women with a distinctive and refined style will especially appreciate mineral jewellery. Although mineral jewellery is a current trend, it will also appeal to women who don't follow fashion trends and who are not moved by short lived fads. At the same time, they will appeal to those who prefer jewellery that is fresh and full of color and for whom neutral, minimalist classics aren't enough.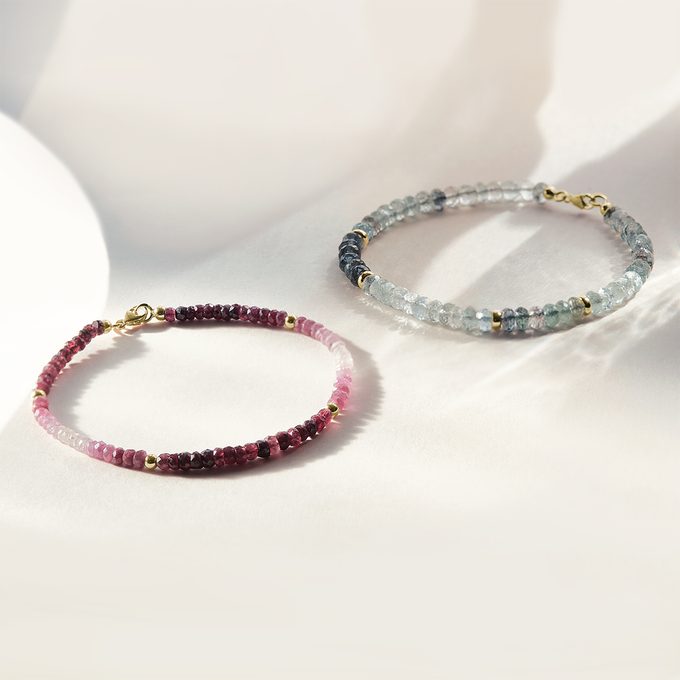 Choose your own mineral
Minerals have been known to people since ancient times and historically they have been attributed with almost magical powers. Each mineral carries a certain symbolism and is traditionally associated with certain star signs. However when it comes to choosing minerals, your own intuition is the best guide.
How to wear mineral jewellery
The answer is simple: any way you like. You can combine them with each other, or with gold jewellery such as chains with a medallion or with your favourite pendant. Layering jewellery is a current trend and by doing this, you'll conjure up a perfectly coordinated boho outfit. At the same time though, mineral jewellery is distinctive enough to become a statement piece that can be worn on its own.
Each mineral comes in a different range of colors and characteristics - we play with these and then choose the minerals carefully. From the design itself to the threading of the components, it is all a sophisticated process that results in a piece of jewellery that's unique and unforgettable... Browse our full range of mineral jewellery and find the right piece that's tailor made to suit your personality.