Today's brides can accessorise their wedding dress with colourful gemstones, they can go with a romantic or even minimalist style, or opt for family heirlooms with a unique history. The only thing that should guide you is your style. It's your day, your rules.
Jewellery doesn't have to be just a subtle addition to the wedding dress. It should mainly accentuate the beauty of the bride and be a reflection of her personality. What's more, jewellery can also have certain symbolism.
How to match the engagement and wedding rings and what to complement them with
Engagement and wedding rings play a major role in wedding jewellery. It's a good idea to think about whether you want to wear both of them together on the same finger or each on a different hand before the actual ceremony. If the engagement ring is to make room for the wedding ring, be sure to move it to another finger in advance.
The style of these rings can be a guide when choosing other jewellery but feel free to combine multiple colours of gold or to play around with mixing different styles. If you have a favorite piece of jewellery – such as a bracelet - that you don't ever take off, you don't have to get rid of it even on this important day. What's important is the final look, and above all, that you feel good.
Eternal classics: diamonds and pearls
Traditionally, diamonds belong with wedding dresses. Their sparkle adds a special occasion glow to the overall look. At the same time, they are sufficiently neutral to go really well with light colours such as white, cream, beige or golden-yellow. Buying diamond jewellery is moreover an investment that goes beyond the wedding ceremony. You can wear diamonds every day and be reminded of the beautiful moments in your life whenever you want.
Other wedding stalwarts include pearl jewellery. Since time immemorial, they have symbolised innocence and purity, so they are perfect for the occasion. The lustre of pearls will add to the elegance and femininity of the bride. Opt for tiny pearl stud earrings, or the opposite if you prefer jewellery which is bolder such as dangle pearl earrings with diamonds. If however you're attracted to the free flowing boho style, choose earrings with a large baroque pearl - their irregular shape will add an element of playfulness to even a very simple outfit.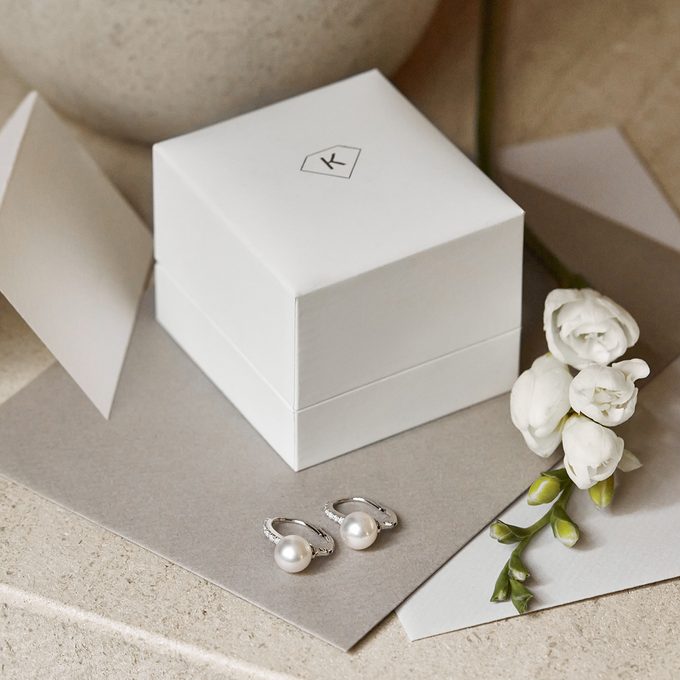 Don't forget about something blue
Some traditions are simply part of weddings. Whether you choose a blue accessory which is visible or hidden, it is meant to bring happiness to your new life. This touch of blue can also come from jewellery with a natural gemstone, such as the sublime sapphire, a symbol of faithfulness and sincerity, or the crystal clear aquamarine which is said to bring trust, peace and harmony to a marriage.
Some practical tips on how to combine jewellery and to coordinate it with a dress
To end with, we have a few tips on how to coordinate everything to make the end result perfect:
Accessorise a more ornate dress

with

simple jewellery

. Will you shine in a dress made of lace or studded with rhinestones or embroidery? Then be more restrained in your choice of accessories. You can't go wrong with delicate

diamond studs

, for instance.

Choose

bolder bridal earrings

and let your

cleavage stand out naturally

. If you feel comfortable wearing larger or dangle earrings then opt for them on your wedding day too. You can leave the neckline completely jewellery free or only accessorise it with a simple

diamond pendant on a chain

.

Choose the style of necklace based on the shape of your neckline. For round necklines or dresses with exposed shoulders, shorter necklaces or chains

close to the neck

, chokers or pearl necklaces, perhaps even layered in multiple rows, would be suitable. A V-neckline, on the other hand, calls for a chain with a pendant, but always make sure that the whole chain lies on the skin and ends above the top edge of the dress.
For a balanced look,

add jewellery where it is needed

. If your dress is more ornate in the neckline, or you will wear a tiara or a floral headband, then only choose minimalist earrings and play around with

bracelets

instead. Whether you choose multiple small dainty bracelets or one bulkier one, the final impression should be a harmonious one. Elegant

cuff bracelets

with diamonds for example are perfect for a wedding day.

If you will be changing after the ceremony into another outfit, don't forget to also prepare jewellery to go with your second outfit. In this case, you have even more options and you could choose for instance striking colour gemstone earrings or an original ring.