Rain is full of hidden beauty, melancholy and purity. When it suddenly starts raining in the spring or summer, it looks as though there are thin strands of water falling from the sky. What would it look like if those strands were made of gold and if diamonds fell instead of drops of water?
We have tried to capture this multifaceted wonder of rain in our very own Rain jewellery collection. The collection is characterised by the basic geometric shape of a straight line and it is full of stylish jewellery that impresses with its imaginative minimalist designs and precision workmanship.
Master craftsmanship hidden behind apparent simplicity
There is a hidden challenge behind the simplicity of a straight line: how to turn something so seemingly plain into a beautiful piece of jewellery. What's more, even if the result looks very simple, it requires an absolute mastery of jewellery making as well as the most modern techniques.
This is because in order to achieve a perfectly straight line, you have to work under a high level of magnification. The smooth gold bars have to be polished to perfection and the ones with diamonds require absolute precision when setting the stones.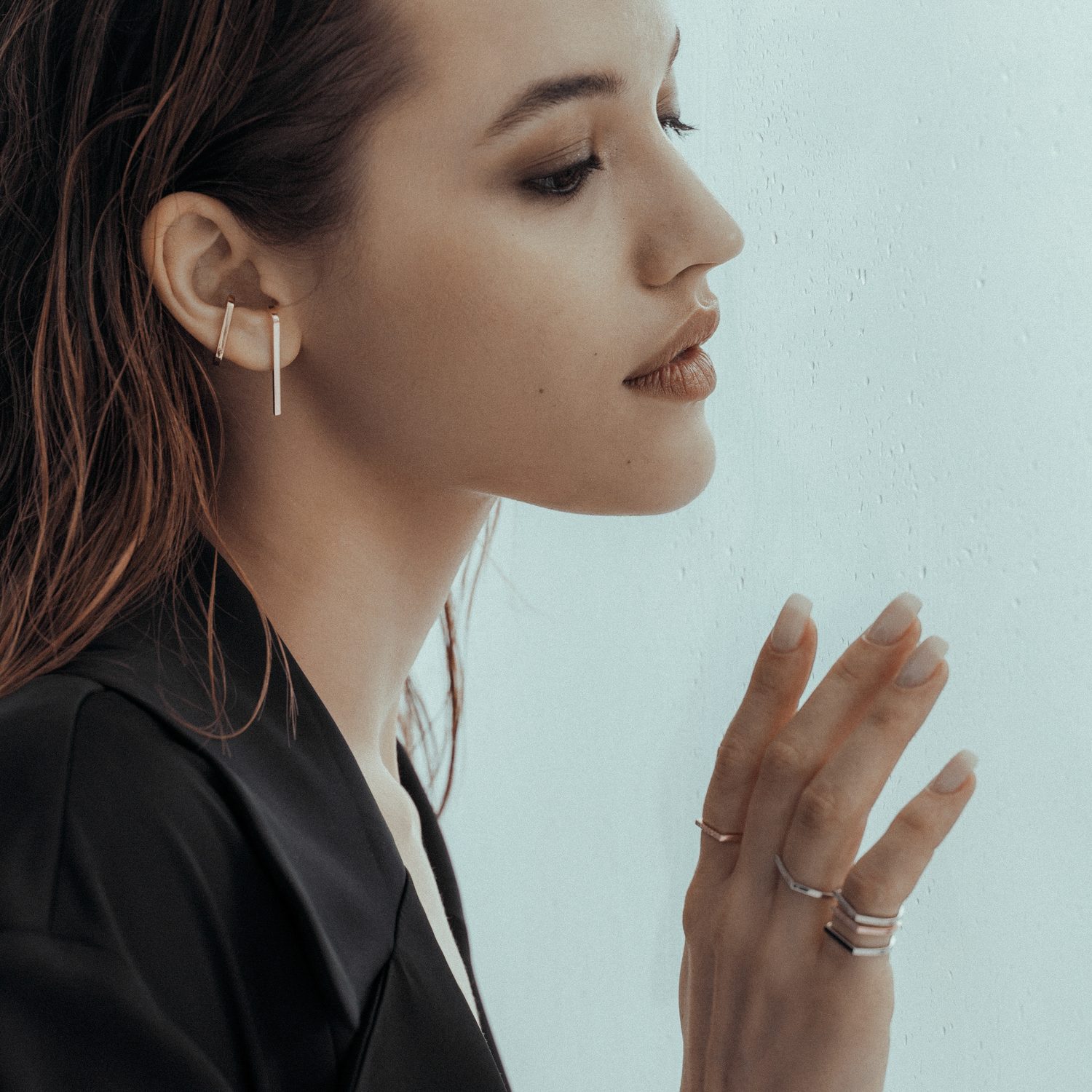 A fine rain of gold and diamonds
All the jewellery in the collection is made of 14 ct gold and comes in a choice of three popular colors: white gold which looks pure and elegant, yellow gold that's classic and timeless, and rose gold which is feminine and romantic.
The collection predominantly features necklaces as well as small and dangle earrings which naturally suit the simple yet distinctive theme of straight lines. But there are also gold and diamond bars which look good on bracelets and what's more, the collection surprises with original rings, including pinkie rings and modern ear cuffs.
Personal expression and originality
The jewellery in the Rain collection looks very modern and is ideal for everyday wear. You can create original combinations from the individual pieces which can be either striking or understated. Although many of the pieces were inspired by the idea of melancholy which often accompanies rain, we designed them to look stylish on any occasion.
Women can decide individually how they will wear the jewellery at any given moment. The jewellery allows them to express their personal style and perhaps their emotions and mood at that particular moment.