Bracelets are rightly one of the most popular pieces of jewellery. One of the reasons for this is that, unlike earrings and necklaces, the person who wears the bracelet can also enjoy looking at it. So whether you're picking out a gift for someone close to you, or you want to make yourself happy with a beautiful and versatile accessory, it's worth considering bracelets. And don't forget that bracelets practically encourage you to layer them, so if you're hesitating about which one to choose, simply combine several of them at once and wear them all on your arm! For inspiration, here is a selection of the most popular designs from the KLENOTA jewellery studio.
Minimalism as the start
Clean lines, smooth workmanship, sparseness. Minimalist jewellery favours quality over quantity and relies on simplicity and practicality. Although minimalist jewellery is inconspicuous, it can impress with its uniqueness and add a touch of elegance to any outfit. A few of these versatile pieces of jewellery shouldn't be missing from your collection. You could, for instance, expand your jewellery collection with a chain bracelet that is decorated with a small diamond in a traditional round cut.
A versatile bracelet that's made of timeless materials
Discover the magic of precious stones
A colour gemstone can also add a touch of uniqueness to minimalist jewellery. A wide range of gemstone colours and a choice of yellow, white and rose 14 ct gold give you lots of room for creative expression. You can conjure up an original piece of jewellery that perfectly reflects your personality. Don't be afraid of unusual combinations. A fine rose gold bracelet with a bright blue round topaz will catch the eye at first sight.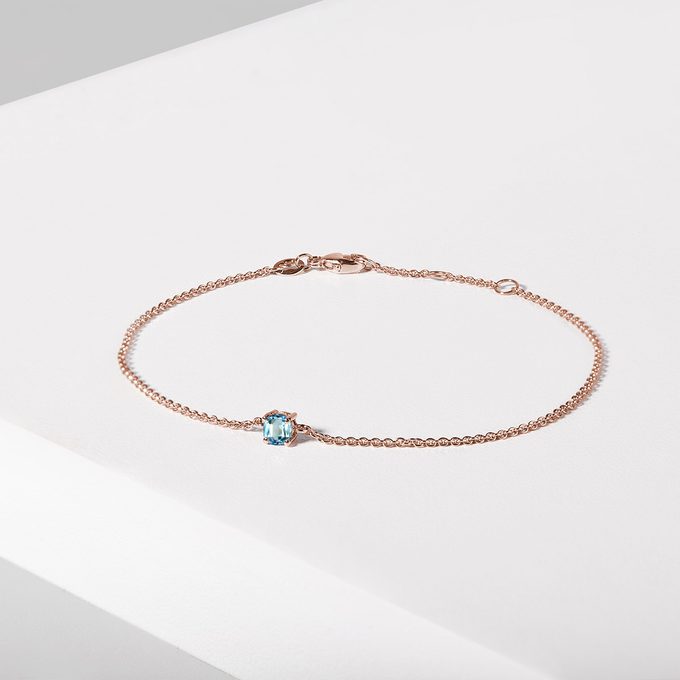 An attractive accessory for everyday wear as well as for special occasions
A luxury trend that won't go away
Despite the fact that tennis bracelets first appeared in the 1920s, they only took on their current name in the 1970s, when they were made famous by the hugely popular and successful tennis player Chris Evert. This timeless symbol of elegance is characterised by a symmetrical row of diamonds or other gemstones. A tennis bracelet looks very sophisticated and is an excellent accessory for both formal and casual outfits.
A dazzling 14ct gold accessory that will retain its beauty and value for years to come
The heart says it all
It would be hard to find a more iconic symbol of love than the heart. It will delight as a gift for Valentine's Day, for anniversaries and under the Christmas tree. But it will also please young girls and your besties. Love comes in many forms - and so does heart jewellery. If you are not sure which one to choose for your loved one, we recommend a chain bracelet made of timeless metals and gemstones.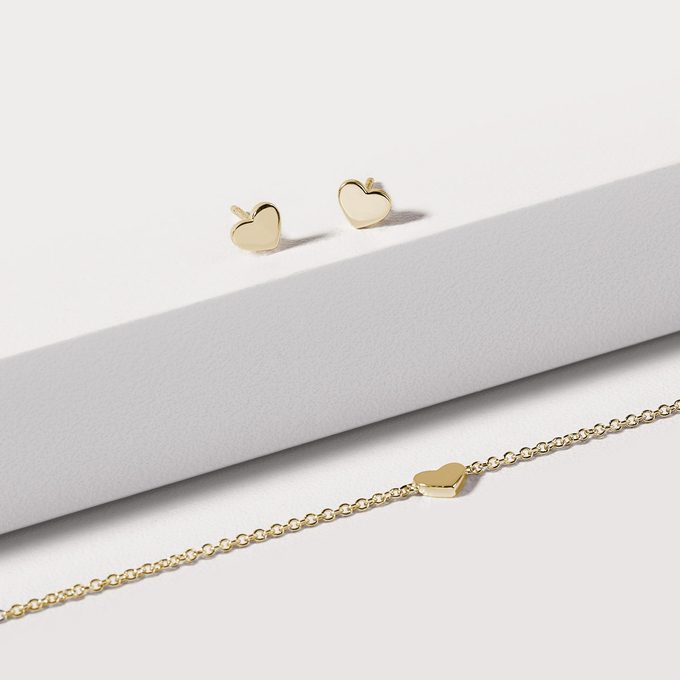 A classic romantic symbol with diamonds in 14 ct gold
Brighten up summer with a refreshingly new colourful treasure
With summer usually comes the desire to brighten up our jewellery box with some new, unusual accessories. Be inspired by the latest fashion trends and choose from our range of gemstone bead bracelets. This type of distinctive, unmissable jewellery made of mineral stones will be especially appreciated by women with an elegant, distinctive style. Have a look at this bracelet made of faceted aquamarines and fine 14 ct gold beads.
Aquamarine bracelet in a range of colours from dark to sky blue
The allure of natural beauty
Pearls symbolize purity and they perfectly accentuate a woman's natural beauty. Their lustre captivates at first sight. In the KLENOTA jewellery studio's collection, there are classic pearl bracelets made of white, pink and dark freshwater pearls, as well as unique models in modern, fresh designs. Including this open bangle bracelet finished with a gold ball and white pearl.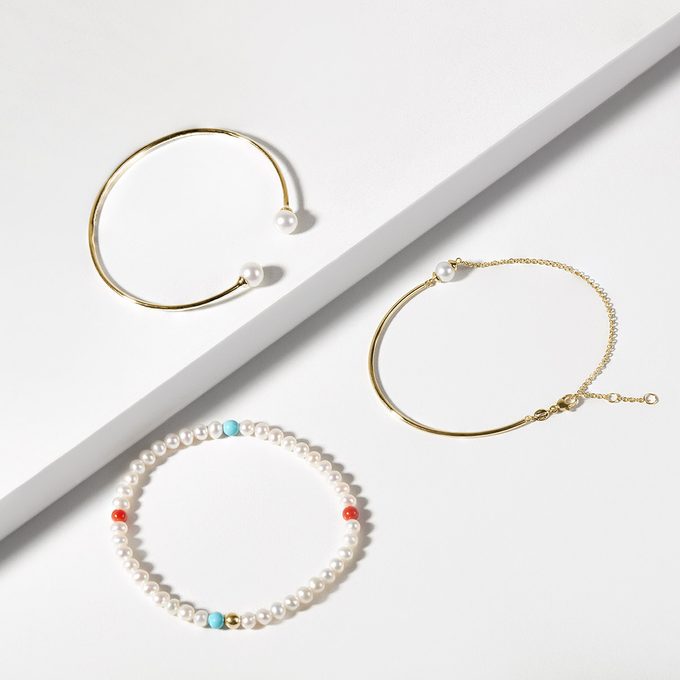 A yellow gold open bangle bracelet combines simplicity and originality
Add a bit of personality to the bracelet
Looking for an original gift? Add a piece of yourself into the jewellery and have it decorated with an engraving. Write a message, a symbol or a date on it as a memento of an important day. This will create a completely unique piece of jewellery with a deeper meaning. You could for instance choose this rose gold chain bracelet decorated with a smooth flat bar and a round diamond in a bezel setting.
A rose gold chain bracelet that can be engraved