Fall as a season is a delight for all the senses. Its colour palette is full of deep, rich and mostly warm shades. Precious stones in particular best suit this exceptional time of year as their colours remind us of fallen leaves. Gemstones in fall colours are sure to become your favorite everyday accessory which will brighten up even those gloomy days and will add energy and joy to your life.
View our selection of handmade jewellery with gemstones and cheer yourself up by getting inspired by the colours of fall.
Rhodolite - the colour of pomegranate
Reddish-purple magenta is one of the leading colours of this fall. The less well known gemstone rhodolite (which comes from the garnet family of stones) proudly features this very colour. Its colours can resemble a ruby, but unlike rhodolite, rubies don't have any shades of violet in them. And lovers of natural stones will certainly welcome the fact that rhodolites are not normally modified in any way. They come to us as nature created them. Their advantage is also the absence of inclusions and their relative affordability.
Rose gold earrings with rhodolites resemble pomegranate seeds and are both distinctive and delicate at the same time.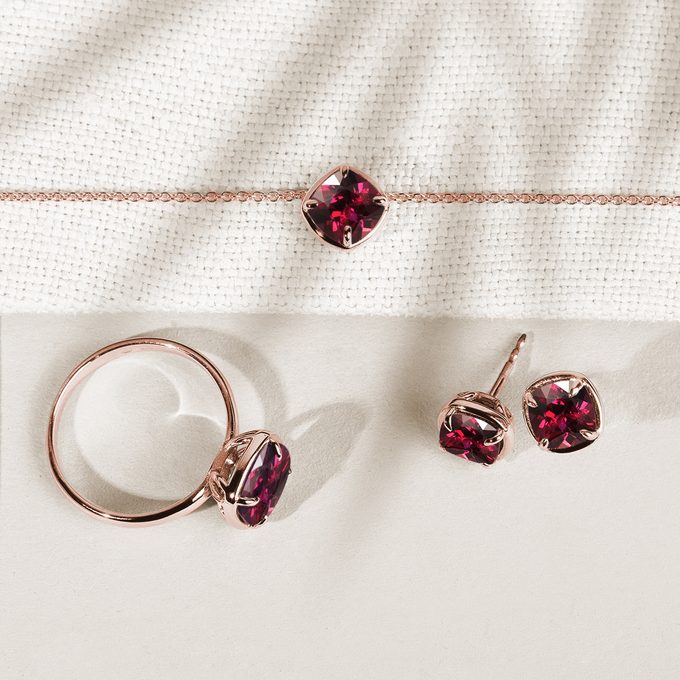 Rubies - the colour of ripe fruit
The fact that fall is not just about dark and muted colours can be appreciated best in the rich and distinctive red colours which fall leaves and juicy apples of the season turn into. And it is also the colour of rubies, one of the rarest gemstones on the planet. The ruby is a strong stone and indeed in ancient times a legend circulated that if you put it in water, it could boil it. Rubies ​​have one great advantage and that's the fact that even a smaller stone can be noticeable in jewellery, as you can see in this beautiful gold pendant with an oval shaped ruby.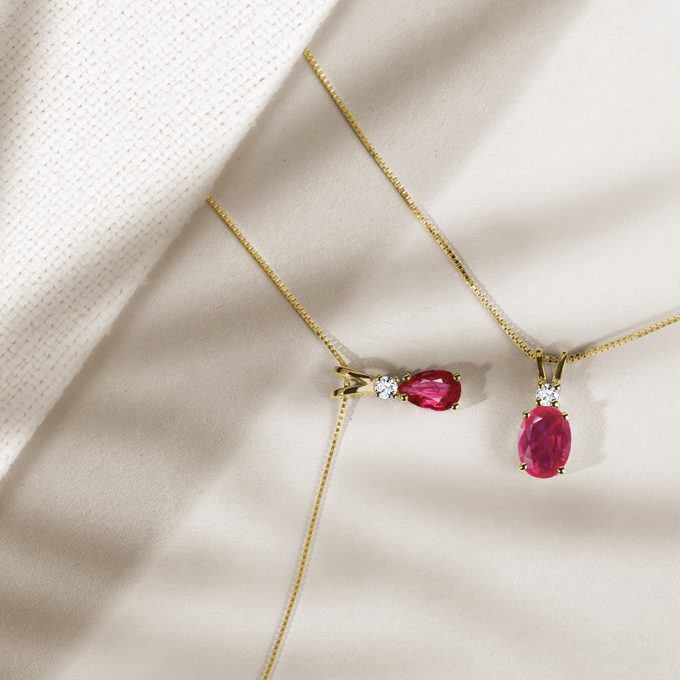 Peridots - the colour of moss and ferns
Green takes on a different look in nature during fall and one of these colours is embodied by the gemstone peridot with its green-yellow shade. From time immemorial, peridots have been associated with the sun, especially when combined with gold. Whether it evokes soft moss, leaves or olive trees to you, this stone will cheer you up. Its colour is bright and it gives off a youthful feel. Jewellery with peridot will be a great addition to a neutral wardrobe for women who love nature and who like to be the center of attention.
Enjoy a bit of sunshine in this necklace which features a peridot set in gold.
Moldavites - the colour of the dark forest
The typical Czech gemstone moldavite boasts a noble shade of green which resembles fir trees. The magic of moldavites lies not only in their beauty, but also in the story associated with their origin. Many millions of years ago, a meteorite fell to earth and in the place where it made impact, the rock melted. This rock was then thrown into the atmosphere where it formed into different shapes which then landed in various places and those places became the sites of today's moldavite deposits. Each piece of this mineral is an original as a result of its wrinkled surface. The colour and luster of this stone stand out best when it is cut and polished, in the cushion cut for example.
Always have a piece of the Czech countryside with you for instance in the form of a minimalist style ring made of yellow gold set with a moldavite.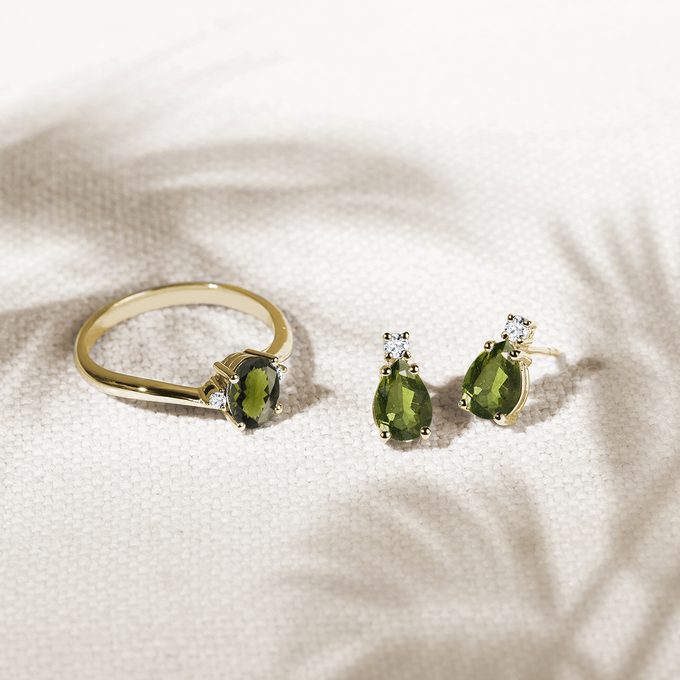 Citrine - the colour of falling leaves
Looking at a colourful fall landscape is certainly amazing. With the gemstone citrine which comes in a warm yellow shade of colour, you can own a little of this beauty for yourself. And all it takes is a delicate accessory in the form of earrings or a necklace with citrines set in yellow gold.
The citrine is a gemstone that is said to hold the sun's energy, to drive away fall blues as well as providing optimism, even when it's cloudy outside. It is considered to be the rarest variety of quartz so when it is sold, amethyst which has been heat treated is often substituted for it and passed off as citrine. Be sure to be careful therefore when purchasing it.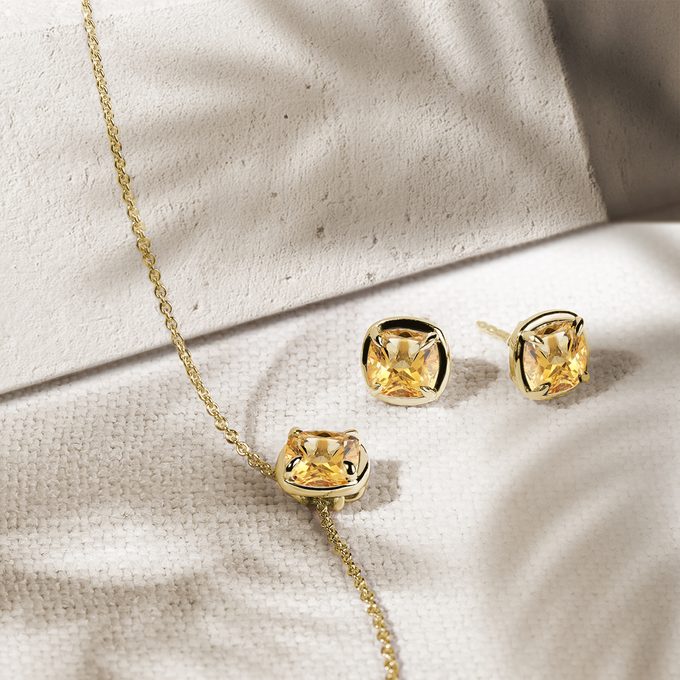 Jewellery with a gemstone
Jewellery with colour gemstones radiate timeless energy and easily resists shorter term trends. Gems in the colours of the fall countryside are very distinctive in themselves and because of this, are an ideal addition to an outfit in muted or neutral tones. They are intended for people who appreciate uniqueness.
Take a look at the selection of jewellery with gemstones from the collection of the KLENOTA jewellery studio and don't be afraid to experiment.