We get the name "sapphire" from the Greek sappheiros (which is derived from the Hebrew sappire), meaning blue. The blue sapphire is one of the most well-known gems and hues throughout the world, but little do people know that sapphires come in almost all colours. And while that blue hue is truly breathtaking, there's another colour that can give it a run for its money: the pink sapphire.
People have adored this rosy-hued gemstone since time began. In ancient times, it was thought that a pink sapphire would bring you honesty, loyalty, luck and, most importantly, love. In Asia, their hue is loved for its resemblance to the lotus flower. Today, pink sapphires are said to symbolise beauty, wisdom, purity and love, and we think it's time to celebrate them.
Popular occasions for pink sapphires
2019 has seen a trend among wedding and engagement rings: ditching the traditional white diamond for a more out-of-the-box, colourful gemstone. Just look at Jennifer Lopez, Lady Gaga or Victoria Beckham--all of them are sporting untraditional, colourful gems. Whether ornate or minimalist, colour is in for wedding and engagement rings, and one of the most popular choices is the pink sapphire.
Besides weddings, sapphire jewellery is also the traditional gift for the 5th and 45th wedding anniversaries. Everyone expects a blue sapphire, so why not surprise your loved one with a blushing pink sapphire instead? Sapphires also make the perfect birthstone gifts for those born in September. Or, if you're gift-shopping for a Taurus or Gemini, get them a precious pink sapphire, the gemstone of their sign, for them to sport!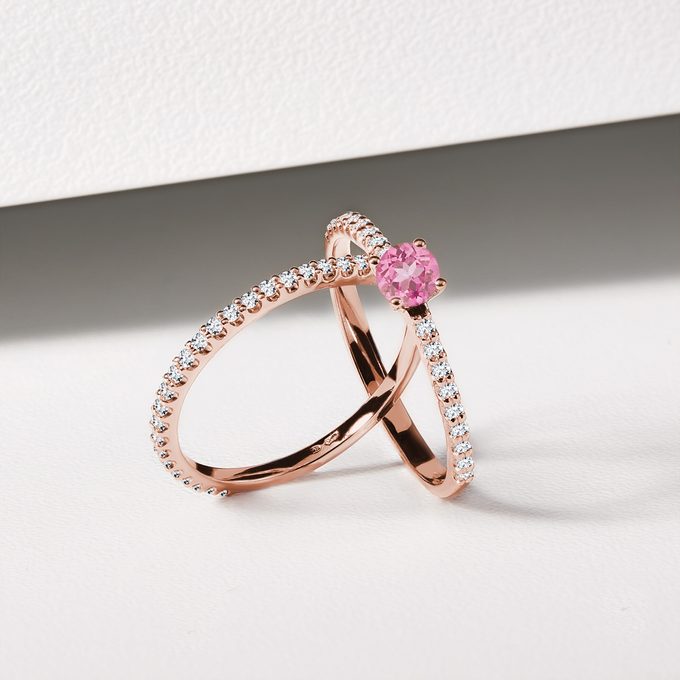 The pink sapphire from a mineralogist's point of view
Chemically, sapphires are aluminum oxide (as are rubies). Pink sapphires can include purple and orange shades--and all the other hues in between. However, we usually place the pink-orange stones in the category of the rare padparadscha sapphires. Sapphires can come in deep shades as well as lighter ones; the intensity of the stone's colour is caused by the amount of chromium contained in it. 
Sapphires are created in rocks rich in aluminum and poor in silicon. They form in table, columnar, bipyramidal and other crystalline structures. And they often twin! (Don't they say that two is better than one?) Sapphires are sought after for jewellery not only for their colour, but also for their glassy lustre, white streak and hardness. In fact, only the diamond is harder than the sapphire. Sapphires are also pretty easy to take care of, so they're a great gift for anyone. Just make sure to avoid acids, as these could damage your gemstone.
| | |
| --- | --- |
| | |
Sapphires and rubies (both corundum) are close relatives of each other. Rubies, of course, sport their classic red hues, but are also found with varying intensity of colour. Because they're so close in composition, there's a debate about whether a particularly light red-pink gemstone is a pale ruby or a pink sapphire. Scientists haven't battled that one out yet, but in our KLENOTA jewels, you'll find these lovely pink gems in the pink sapphire categories.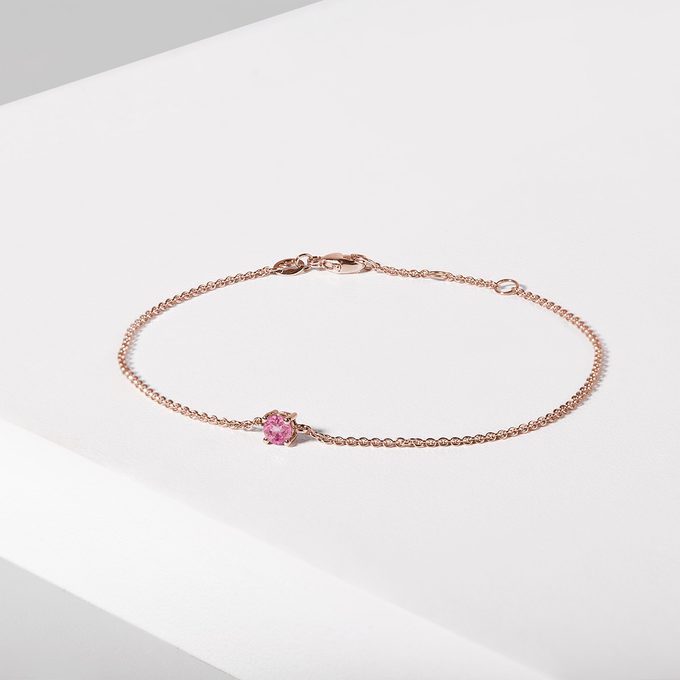 How to wear pink sapphires and why you should
This beautiful pink gemstone embodies all the elegance, tenderness and beauty that you could want in a piece of jewellery. They're loved for their subtlety and romantic aura and are therefore becoming a much more popular option for engagement rings, specifically, as well as gifts for any and all occasions.
You can't go wrong with pink sapphires--they suit all skin tones, whether darker or paler, and because they're not as bold of a colour as their blue counterparts, they'll go well with any outfit you have in your closet. Pink sapphires pair well with all tones of gold, as well. Choose a rose gold setting to really bring out that fairytale feel. Or, set your pink sapphire in cool white gold to make the colour pop and give it a polished look. Don't forget your diamonds, too! Nothing accentuates your rosy gemstone like sparkling white diamonds.
Pink sapphires make a great gift for those that have it all and for those that think outside of the box. A new quarry opened in Madagascar in 1990, making pink sapphires more readily available to the public; however, they are still pretty rare, since their colour is so unique in nature. Even though they are rare, they're quite reasonably priced, costing less than pink diamonds. Pink sapphires are the perfect choice for someone looking for that high-luxury, high-quality look without breaking the bank.
How to pick the right stone and how to take care of it
Similarly to other gemstones, pink sapphires are commonly treated with heat to remove some of the undesired colour tones and to polish out any unevenness in the stone. Treating a stone with heat gives the stone a silkier lustre and higher clarity, creating a gem that has a higher wow factor and will keep its shine for years to come.
When we buy pink sapphires, we mainly decide which gemstone to choose according to our own taste and opinion. Unlike diamonds and their four C's, sapphires don't have a standardized way to qualify them. We make sure that all of the gemstones we use are of high quality, so that when you are browsing through our pink sapphire jewellery, all you have to worry about is what hue would look best on you.
Taking care of your sapphires is not as demanding as it is with other gemstones, thanks to the sapphire's hardness. Sapphires are difficult to scratch up, but they certainly don't like temperature shocks. We recommend taking your jewellery off when you're cooking or cleaning to protect it from these shocks or from getting dirt in it. If your sapphires do start looking a little less shiny than when you first put them on, don't worry--just send them to us, and we'll restore them to their former glory.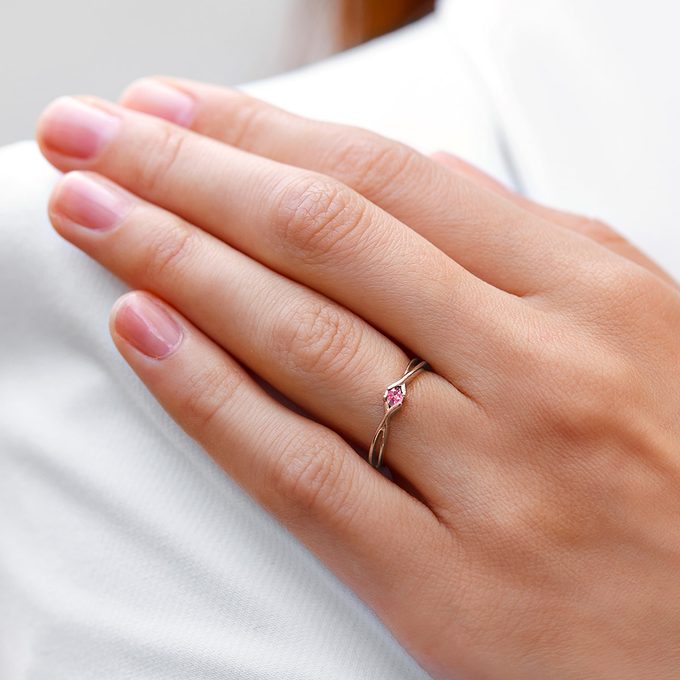 Pink sapphires from all over the world
Before 1990, pink sapphires were considered to be extremely rare. When the quarries in Madagascar opened that year, however, pink sapphires made their way out into the world and into our hearts. Most pink sapphires come from Madagascar, but there are also older quarries in Sri Lanka, Burma and East Africa. Generally, the place of origin doesn't affect the price like it might with other gemstones.
Pink sapphires rose in popularity thanks in part to Queen Elizabeth II, who sports a brooch fit with a large, sparkling, rosy sapphire set into a flower of diamonds. She wore this brooch for her Christmas speech in 2013--check out the pictures for some pink-loving inspiration! Grace Kelly was also fond of pink sapphires; her floral jewels still inspire jewellery-makers and goldsmiths today.