For centuries, wedding rings have expressed the same types of values but despite this, at KLENOTA, we constantly move their designs forward and look for new and novel styles for this traditional piece of jewellery which is associated with love and marriage. Even in the small space of a simple wedding band, a symphony of shapes, lines and diamond sparkle can play out. And these new rings which we've started the year 2023 with are proof of just that. 
Discover the current trends in wedding rings
The classic look of wedding rings as a simple band will certainly never go out of fashion. However, we have seen a growing interest in diamond wedding rings and these are now among the most popular wedding bands with our customers.
The choice of these kinds of rings is further backed up by their symbolic meaning. Diamonds have always symbolised loyalty, love and purity. In our collection, future brides have a choice of minimalist rings with clean lines as well as very feminine and romantic designs.
Eternity rings
Rings that are set with diamonds all the way around the band are called eternity rings and at the KLENOTA Jewellery Studio, we offer them in many different styles. If you are wondering about how you can suitably combine a wedding ring with an engagement ring, have a look at our category of ring sets with matching designs.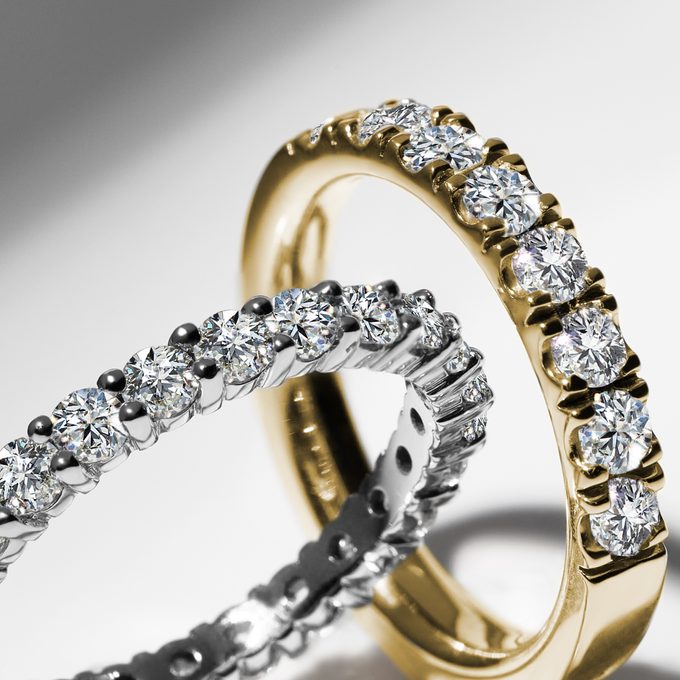 Chevron rings
Gold wedding rings don't have to be just simple bands. Chevron rings, that is rings shaped into a point, offer an interesting alternative. This type of design will especially please those brides who plan to wear their engagement and wedding rings on the same finger after the wedding.
Wedding rings with grooves
Even a small detail can add freshness and personality to a minimalist design. Our new wedding rings which have a fine engraved groove on them will convince you of this. What's more, the ladies' ring will attract attention with its diamond sparkle.
We have created several varieties with the grooves in different places, with varying ring profiles and even number of diamonds set into the ring. Of course, these are always available in all gold colours.
Diamonds in an unusual baguette cut
A classic, timeless wedding ring that's original and modern at the same time; this is exactly what a diamond in the less well-known baguette cut will bring to a ring. The sparkling rectangle-shaped gemstone fits perfectly into the wedding band and gives it a completely unique, elegant look.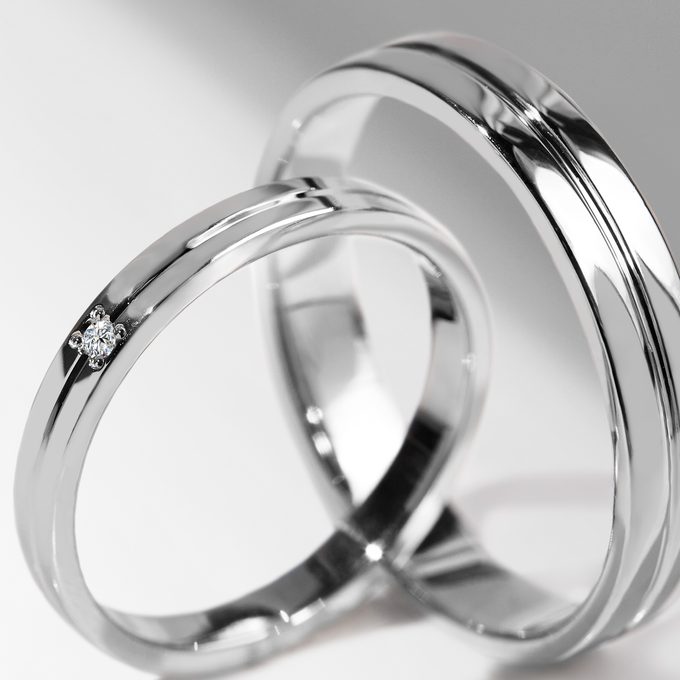 Each one of them is unique
Wedding rings, like all our jewellery, are made directy in the KLENOTA Jewellery Studio in the very heart of Prague. We pay attention to every detail during the design and crafting of the rings. We use the most modern technologies and a wide variety of processes. But we believe that the core of our jewellery is genuine handcrafted work which is imprinted onto each ring by our experienced goldsmiths. They hand-finish the jewellery master models, facet the stones and finish the surface of the metal into its final form. Get inspired by our bestsellers when searching for wedding rings.
There are hundreds of white, yellow and rose gold wedding rings in our collection. We have a wide variety of design options that you can choose from to suit your tastes exactly: different profiles, widths, finishes, etc.
Each piece of jewellery comes with a Certificate of Authenticity, a designer gift box and a lifetime of customer care including complementary cleaning and first surface restoration. For your peace of mind, we guarantee a 60-day return or exchange period and the first size adjustment for any jewellery that doesn't fit for free.