Wedding rings have expressed the same values ​​for centuries, yet at the KLENOTA jewellery studio we constantly innovate their design and look for new and unique styles for this traditional piece of jewellery which is connected with love and marriage. Even in such a small space as a simple wedding band, symphonies of shapes and lines as well as the sparkle of diamonds can play out. And our new rings which we've designed for 2021 are proof of this.
Discover trends from the world of wedding rings
A simple band as that classic look for a wedding ring will probably never go out of style. However right now there is growing interest in diamond wedding rings and these have been among the most sought after.
The fact that these rings are popular is also borne out by their symbolic meaning since diamonds have meant faithfulness, love, purity and innocence since time immemorial. In our collection, brides-to-be can choose from minimalist rings with simple lines as well as delicate and romantic pieces. Let yourself be inspired by our bestsellers.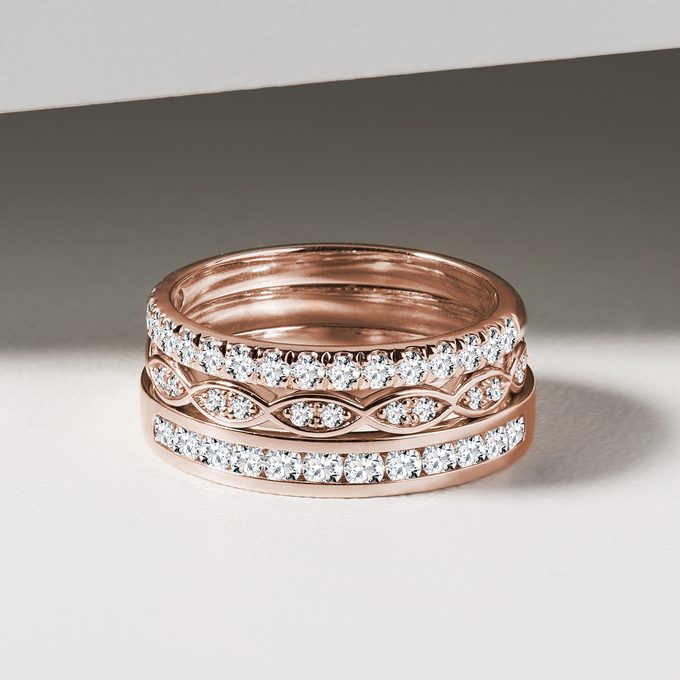 Rings which are set with diamonds all the way around the band are called eternity rings, and at the KLENOTA jewellery studio we have them in many different styles. If you would like to know how you can combine a wedding ring with an engagement ring, take a look at our collection of matching sets. You can choose the design of the wedding ring you want in yellow, rose or white gold.
Each one of them is unique
We make our wedding rings the same as all of our jewellery right in the KLENOTA jewellery studio in the very heart of Prague. When designing and crafting the jewellery, we pay attention to every detail. We use the latest technologies and a variety of processes. We believe however that the absolute foundation of our work is honest, hand-crafted work which is passed on into every ring by our experienced goldsmiths. They manually finish master models, cut and polish stones and finish off the metal surface to get it to its final look and shape. Take a closer look at our latest range of wedding rings in the product gallery below the article.