An eternity ring - a perfect circle with an endless row of diamonds which sparkle in every direction. And now it is also an iconic piece of jewellery. It will bewitch you not only with its beauty but also with its symbolism, which is inextricably linked to it.
The meaning behind eternity rings
The word eternity means forever and from this it's possible to deduce the meaning which is behind this charming piece of jewellery. Eternity rings express endlessness, perfection, and above all, infinite love. Based on their name it might seem that diamond eternity rings have always been around but this is not the case. Having said this, they are also not completely new. Their successful journey began in the 1960s, when the famous De Beers jewellery company introduced them as an ideal gift from a husband to his wife for an important anniversary.
Thanks to their universal nature, these rings quickly gained in popularity and today they are given as a present for many other occasions. So in addition to remaining a great gift of love or for some other important milestone in a relationship, they have also become a very luxurious type of wedding ring. Women also often buy the rings for themselves as a refreshing modern fashion accessory.
The trend of having eternity rings as wedding rings
Eternity rings are rightly among the most popular wedding rings right now. The choice of a diamond wedding ring in the style of an eternity ring has several advantages. When you combine the shape of a simple wedding band (which is a traditional symbol of endless love) together with a series of diamonds, the symbolism is even stronger. Diamonds are traditionally associated with love, purity, trust and faithfulness. Eternity rings have a simple design and are very comfortable even when worn every day, yet thanks to their distinctive diamond sparkle, they look different and out of the ordinary. And last but not least, these rings go well with diamond engagement rings which you'll be able to see for yourself in our collection of matching wedding and engagement sets.
The various styles of eternity of rings
First of all, let's distinguish between an eternity ring which is set with gemstones all the way around the band and the half eternity version. A half eternity ring is decorated with diamonds only on part of the band as compared to the classic version, where the diamonds are set all the way around. But the variety certainly doesn't end there. You could say that as many ways as there are to set diamonds into metal, so there are styles of eternity rings. And you will find many of them in the KLENOTA Jewellery Studio collection. Let's look at them one by one.
Pavé eternity rings
Pavé style settings are currently very popular. They allow you to create a piece of jewellery from very small diamonds which are set right next to each other and thus form a continuous area of different sizes. Pavé eternity rings sparkle beautifully and create the effect that the band of the ring appears wider than the total size of the diamonds themselves.
Eternity rings with a cut down setting
This type of ring eternity is at first glance similar to the previous pavé style ring. The diamonds are set into a metal rim, which is cut from the sides in such a way as to show as much of each stone as possible. This therefore allows more room for the play of light on the surface of the diamonds.
Eternity rings with a channel setting
This is a very elegant style of eternity ring. The diamonds are surrounded on each side by a metal channel and they almost look like they're just sitting freely side by side. The secret behind it all is a groove or channel along the entire inner circumference of the ring which the stones are set into.
Eternity rings in a classic setting using prongs
Eternity rings also come with prong settings. Each diamond is held securely in place with the help of prongs, which are visible both from above and also from the side of the ring. With this type of setting, the diamonds appear more separated and their round shape stands out well.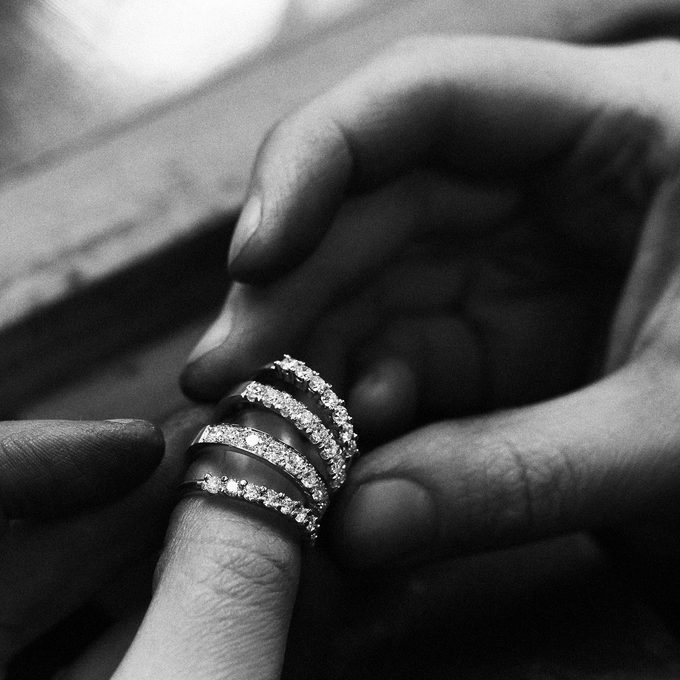 Bezel style eternity rings
A bezel (or lunette) setting where a stone is surrounded all the way around by a metal edging is one of the safest ways for a stone to be set. With eternity rings, this creates a very interesting effect of consecutive and connected circles.
Atypical eternity rings
And because in addition to the classics, we also like new trends and experimenting with new forms, you'll also find a number of less traditional eternity rings in our collection. One of them for instance is a ring with irregularly placed diamonds of different sizes.