An engagement ring and a wedding ring are some of the most important pieces of jewellery in a woman's life. As soon as the wedding ring lands on a bride's left ring finger, the question arises: what to do with the engagement ring? Will it get moved to the other hand? Or will it shine alongside the wedding ring on the same finger?
Engagement and wedding ring sets that match
We have designed a range of matching sets of engagement and wedding rings at the KLENOTA jewellery studio just for you. This is because we believe that these two rings belong together and deserve to be worn every day. So the moment you choose an engagement ring, you can start looking at wedding rings. This way you'll be sure that when the day comes, the two rings will go together beautifully. But another option is to buy your dream engagement and wedding ring set all at once..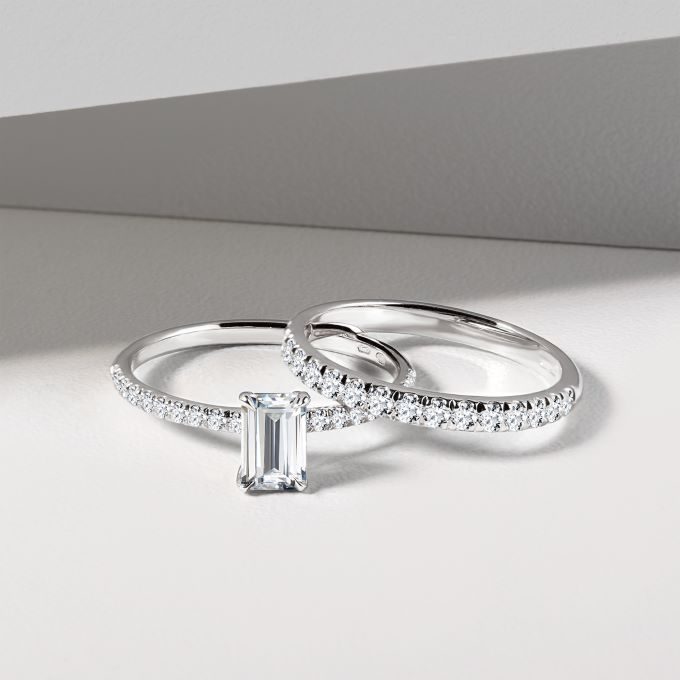 A perfect coupling
The intent behind our new collection was to create combinations of engagement and wedding rings that complement each other in design and which at the same time don't intrude on one another. Timeless engagement rings with diamonds and colour gemstones that go well with diamond wedding rings. So let yourself be drawn into the world of jewellery for those in love and get inspired by bold ideas from our designers.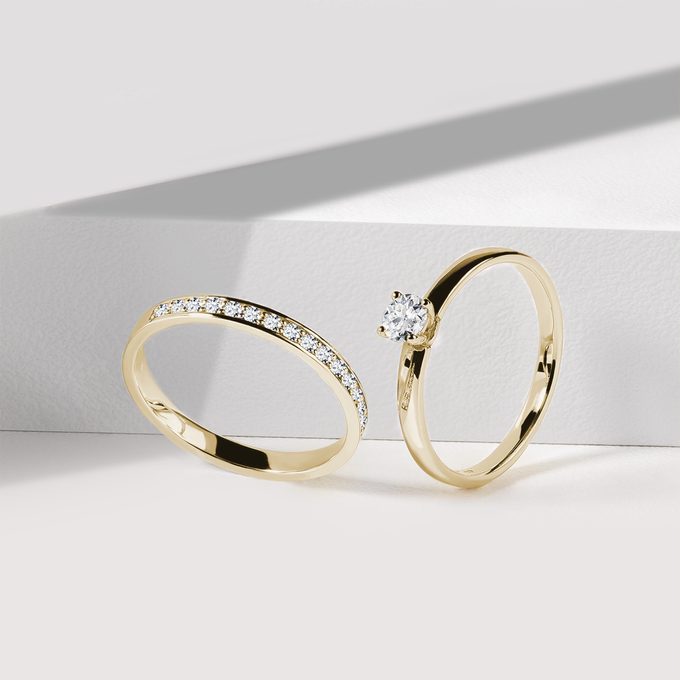 Tips on how to match an engagement ring with a wedding ring
A ring with a solitaire diamond and a half eternity wedding ring
This is an elegant and timeless combination. These days, diamonds are not only the prerogative of engagement rings, but have also broken through into the realm of wedding rings. A gold wedding band in a simple design which is dominated by a solitaire diamond is one of the most popular types of engagement rings. And we see no reason why such a solitaire diamond should be left all on its own. A diamond can be just the feature which connects the two rings. For this you could choose a sparkling "half eternity" ring, which has half its circumference studded with glittering diamonds.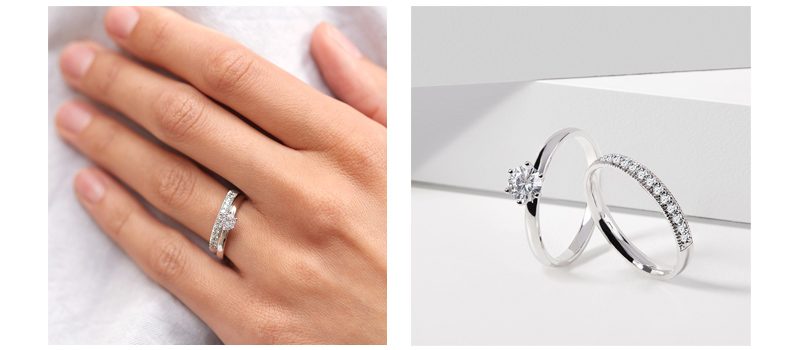 A ring with three diamonds combined with a wavy diamond wedding ring
Now this is a pair that's compelling. The rings complement each other where needed, but otherwise they leave enough space for each other to shine on their own. Such is the pairing of a wavy wedding ring with a modern diamond engagement ring. Each of the rings is different and yet they go really well together. The wavy wedding ring adapts in shape to the protruding stones so the whole set looks very harmonious together.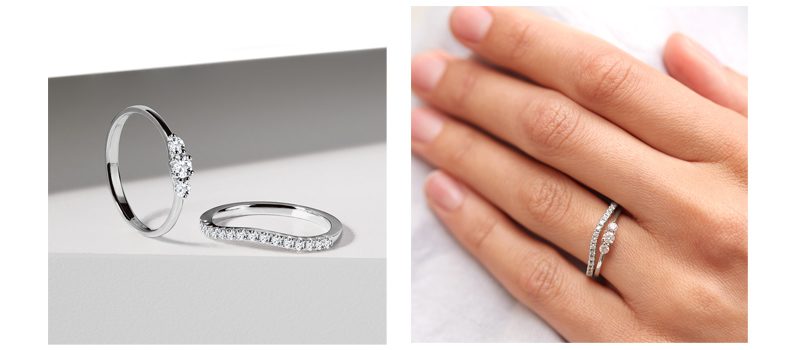 A ring with a colour gemstone along with an eternity ring
The romantic pink tourmaline or a noble, green emerald are the original choices of gemstones for an engagement ring. For example a band set with a colour gemstone in an emerald cut which is then also decorated with diamonds around the circumference so that it matches perfectly with a "half eternity" wedding ring. The result is a distinctive whole that holds its own with any cocktail ring.
Take a look at our sets of engagement and wedding rings and choose the one that will be special for you.