Apart from sophisticated minimalism and clear moissanites, the emerald cut of the stones is the common element of all of the jewellery in this collection. The feature of this cut is a rectangular shape with step cut edges that perfectly highlight the exceptional brilliance and purity of moissanites.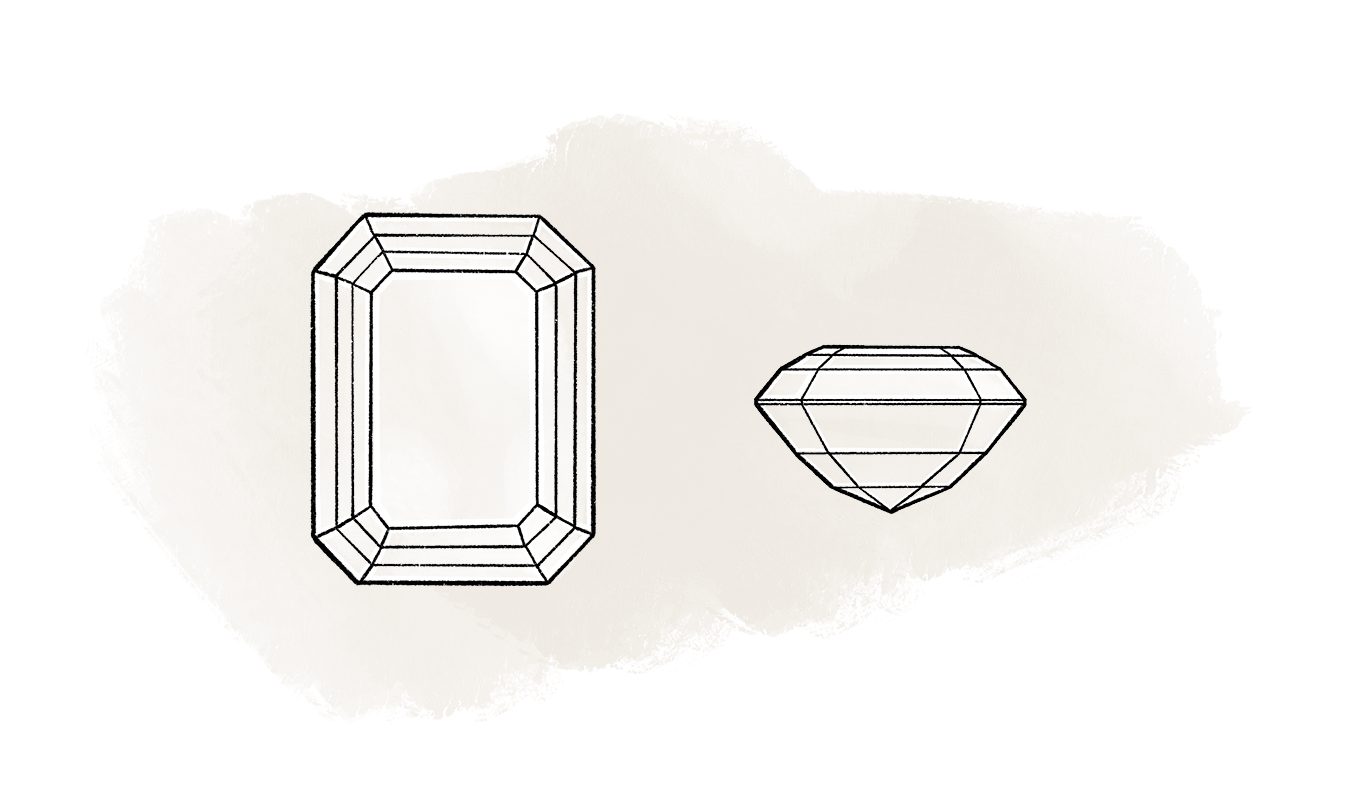 When designing the E-cut collection, we wanted to create jewellery that would be elegant, timeless and simple yet unmissable. You might think that when someone says "minimalist", it means small or tiny. But we decided to explore the different forms of minimalism. We combined clean design and smooth lines on the one hand with big, bold gemstones on the other.
Sophisticated elegance in all the colours of gold
And what jewellery will you find in the E-cut collection? Bracelets, earrings (dangle and studs), necklaces, rings and jewellery sets. All in 14ct gold in graceful white, classic yellow and delicate rose gold. Each piece is decorated with a 3×5 or 4×6 millimetre solitaire moissanite set into four tiny prongs or in bezel style with a smooth band around the stone.
In combining gold with distinctive moissanites, we have created jewellery that is durable, looks luxurious and classy and yet is affordable.
Why you will love moissanites
There are several reasons why this gemstone, which is made in a laboratory and which isn't as well known yet, is becoming increasingly popular. One of its characteristics is its exceptional clarity - which is on average equivalent to diamonds rated VS. Less than 10% of polished diamonds achieve such quality. In addition, due to the composition of moissanites, they don't attract much dirt and dust so they need only minimal care.
Their high durability is also a big plus. Moissanites rate at 9.25 on the Mohs scale of hardness, making them the second hardest stone after diamonds. So this also makes them one of those ideal gemstones for everyday wear. 
Moissanites impress with several remarkable optical properties. In addition to their clarity, they have a very high lustre (18% more than diamonds). They are also original in that they have the quality of double refraction. This causes light penetrating the stone to bend and refract into two rays and these are then further broken down into spectral colours. Moissanites can therefore appear iridescent in certain situations.
Browse our new E-cut collection and choose a new favourite piece of jewellery for everyday wear for you or a loved one.